How to Celebrate a Bat Mitzvah and What Is It?
Is this the first time you are hearing the term "Bat Mitzvah?" If it is, then you should know it is a Hebrew term for "daughter of commandment." In Jewish culture, when a girl turns twelve years of age, she has all the obligations and rights of a Jewish adult, including the Torah commandments. From that date onwards, she takes her place and marks her stand in the Jewish community. The bat mitzvah is a milestone that people often celebrate with meaningful gatherings, creative themes, and joyous parties through the help of expert planners in party decorations Atlanta GA.
Probably, you may be familiar with the Bat Mitzvah term, when used to refer to the celebration, but it could be referring to you actually, the Mitzvah girl. Even though you are no longer a teenager in the secular world, according to Jewish practices and their law, right from the age of twelve, a girl is now an adult.  When your twelfth birthday approaches, officially, you become a "Bat Mitzvah," meaning a daughter of the mitzvahs.
How to Celebrate a Bat Mitzvah
It could be that a few days ago, you celebrated a siblings or friend's bat mitzvah celebration, and saw anything from lavish get together, unique themed events, or wedding style events. In the last few decades, it has become a common trend to throw stylish and big parties, but it is necessary to remember that this special day is a lot more than just an ordinary party celebration.
This event is an important link in the continuous chain of spiritual and religious experiences and most of the crucial aspects of this milestone are the long-term effect and impact it has on the identity of a young woman. Hence, all your preparations have to reflect and focus on this, rather than paying attention to less important matters.
To learn more about the event, the pre-months are ideal times to spend more time and learn about it, how and why people celebrate it. You should develop your personal relationship with the Jewish religion. Of course, it is not possible to cover all the details in just a few months. However, the best preparation for fulfilling a meaningful and Jewish life is through school or educating programs.
Regardless of your religious knowledge, returning to how people celebrate it, here are some ideas on how you can celebrate your special day.
Make It Meaningful
It is vital to make sure the Mitzvah is a meaningful one to the girl celebrating it. Some people make sure that they dedicate some hours to help others. Sometimes, this may involve a trip to a nursing home in a nearby area, or help residents or volunteer organizations. The Mitzvah girl can also invite her family and friends to remind her of the importance of the day.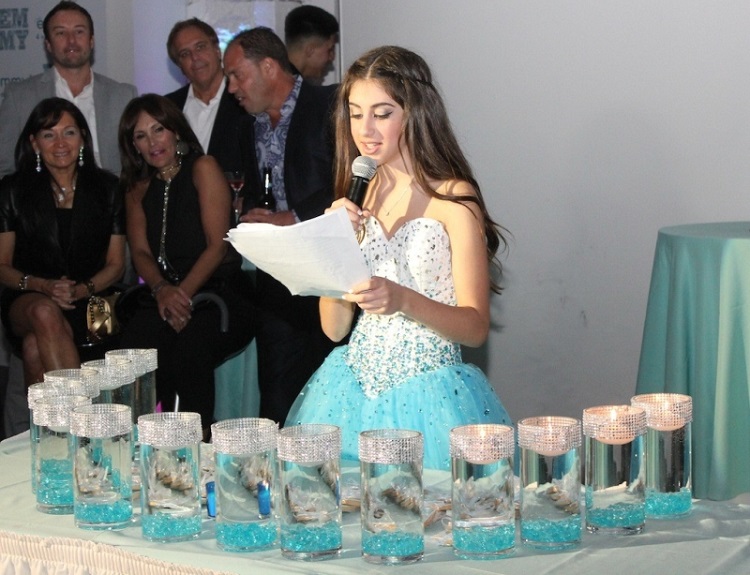 Host a Party
Keep in mind that the Bat Mitzvah celebrations can vary and there is no particular rule. Some people prefer to have small or larger affairs. However, others prefer private gatherings, and depending on their budget, they contact event planners such as those at Let's Celebrate Events to make sure it is a unique one.
Some people work with event planners to make it a more meaningful one through incorporating themes and adding special decoration elements. All these details can help guests to engage better in the event and give off a welcoming vibe.
Traditional Gifts
The Bat Mitzvah is incomplete without some traditional gifts, including religious books that hold educational value, gift certificates, religious items, or money. Usually, monetary gifts are more auspicious and they have become a lot more common for these celebrations. Sometimes, the event involves the young girl lighting some candlesticks, pretty ones.
The Speech
A customary part of the Bat Mitzvah party is the need to prepare a speech. In most cases, the speech may be from the Torah portion, or some ideas that resonate from there and her ideas. So many girls often research the significance of the Jewish history and they share some of the lessons they learn. This speech often encourages the girl to learn with others and share with them.
To make the celebration a meaningful one, it is necessary to emphasize the importance of the speech and tell all the guests about the celebration, as well as give some charity or tzedakah.
Although the celebration itself is quite a big milestone in the life of a Jewish girl and obviously, it requires preparation and study, you should never see one as a graduation from Judaism. Rather, a vibrant or bright beginning; it is one that fulfills the Jewish life of a girl. In other words, a girl observing this event is just starting a new life!
For the best party decoration ideas, you can always consult talented event planners. Make sure you go through their portfolio and the before and after photos of some of the decorations they have to offer.