Risks and Dangers of Using A Bounce House at Birthday Parties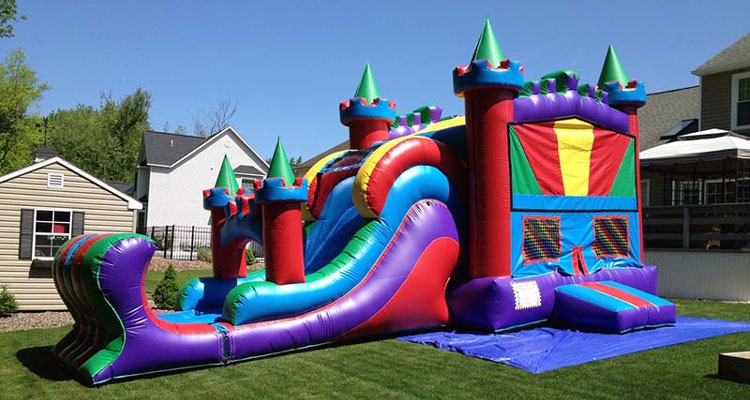 Bounce houses may seem like a fun and safe kids' party treat, but the fact is, thousands of children are injured in bouncy houses every year. Kids between the ages of six and twelve are most likely to experience injuries when playing in a bounce house. In this article, we discuss bounce house injuries and review the safety procedures, rules and regulations surrounding their use. Read on to learn more.
How Are Children Injured in Bounce Houses?
Bumps, bruises, and bloody noses are common injuries for kids of all ages playing in bouncy houses. Kids with braces may suffer very painful mouth and neck injuries if their braces become enmeshed in the house's webbing.
Head injuries and concussions are common for kids of all ages. Small children, under five years of age, are very likely to suffer fractured limbs when playing in bouncers. Bigger kids are more likely to suffer sprains and strains.
The fact that these injuries are very commonplace explains why operators of bounce houses always require a liability waiver be signed by the parents of any child playing in the structure. These waivers are intended to release the owners of bounce houses and their employees from liability in the event of injury or even death of a participant.
Be Sure Your Bounce House Is Set Up Safely
Bouncers should always be set up by trained, qualified personnel. Bounce house rental staff should stay on-site to supervise at all times.
Manufacturers recommend deflating bounce houses in winds of 20-25 MPH but use common sense. If the day is windy, don't set up a bounce house. Strong wind can literally blow one of these flimsy structures away.
When you do set up one of these inflatable structures, be sure the ground it sits upon is level and free of sprinkler heads, sticks, rocks, and other potentially painful objects.
The ground the play structure sits on should be firm. The area around the entrance should be softer. A good lawn or an indoor/outdoor mat will suffice.
Set the bounce house up well away from power lines, trees, tree limbs, and structures.
For indoor use, be sure that the sides of the structure are well away from the walls, and ensure that there is plenty of overhead clearance. If the floors are hard, put gym mats under the structure and at the entrance/exit.
Safe Bounce House Rules
Limit the number of children playing at once. One at a time is safest, but not as fun. Be sure that children playing together are of about the same age and size to limit potential injury. Observe posted occupancy limits carefully.
Remove shoes and any other item of apparel (jewelry, eyeglasses, etc.) that might cause injury.
Instruct children to keep clear of the walls and the entrance/exit as these areas tend to be a bit more dangerous.
Instruct children to stay upright. They should bounce on their feet and not on their backs. Use slides feet first because sliding headfirst can cause face, head and neck injuries.
Supervise your child. Even with a bounce house employee in place, parents should be present and keep a close eye on their children. Be sure your child uses the bounce house correctly and does not engage in (or become the victim of) roughhousing.
Will Homeowner's Insurance Cover A Bounce House?
It is very unlikely that a standard homeowner's insurance policy would cover any aspect of bounce house use. These structures are typically specified as exclusions in standard homeowner's policies.
Bounce house rental companies should carry insurance on their equipment. Be sure to see and carefully read their certificate of insurance when you sign your agreement with the company you choose.
If you wish to purchase additional insurance for a bounce house for a party, you may be able to get a special events coverage policy, but it won't be cheap. These short term, high-risk policies typically cost at least a thousand dollars for limited coverage within a specific time-frame. Even so, if someone is injured in your bounce house, this sort of coverage could save you a fortune.
Source:
https://bouncehouseinjurylaw.com/dangers-at-birthday-parties-events/