In today's world, where robbery and disasters are common, home security is no more an idea; it has become a solution. The world is full of disasters, whether natural or human-made. To minimize the threat, it would be best to protect your home with the proper security system or devices.
The United States has a whopping 2 million home robberies every year, and every 13 seconds marks another home robbed in the USA. Do you understand the importance of an intrusion detection alarm now?
Point to Ponder: Burglars are 300 percent more likely to break into a house that doesn't have a home security system.
But those are only the statistics of robberies; what about natural disasters? Other than intrusion detection alarms, there are other home security devices that help you deter or save you from such drastic circumstances. These devices can be added to your existing home security system.
Knowing that your house and your loved ones, including you, are safe will give you the peace of mind you require. Let us discuss five other types of home security devices that you didn't know about. These home security devices can alert you before any tragedy strikes.
5 Other Important Home Security Devices
Every home security device mentioned here offers various features for you to take advantage of. Some of which I will highly recommend.
1. Fire and Heat Detection Devices
Fire detection devices alert the authorities of early fire development. This early detection gives enough time for the occupants to have a safe evacuation. The device's main purpose is to alert the monitoring that smoke or high heat has been detected.
A significant benefit of a fire detection device is that it can minimize property loss as the fire control efforts are started as soon as the fire alarm goes off. These devices are usually overlooked and only used when an incident happens.
This is one of the best features of a fire detection device on your home security system in that when you are not home, the home security system calls the fire department for you. Possibly saving your home. Opposed to a regular smoke detector that goes unheard.
Different Types of Fire Alarm Devices
The core of the fire detection devices contains sensors. These sensors range from simple units to intuitive smoke detectors. There are many types of fire alarm devices, but the basic and widely used ones are:
Heat detectors- The alarm sounds when the home, garage, or area reaches a fixed, preset temperature. It can also compare the rise and fall in temperature and sound an alarm when the temperature rises significantly.
Smoke detectors- These include three widely used smoke detector types: ionization, light scattering, and light obscuring.
Multi-sensor detectors- These include sensors with both smoke and heat detection.
2. Water Sensors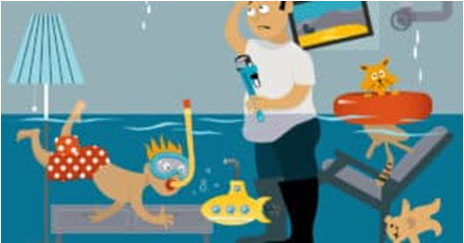 A water sensor determines the overflow of water or water leaks in places where leaks would go unnoticed. To prevent property damage, water sensors set off an alarm to alert the occupants before the damage or situation gets out of hand.
In most cases, the monitoring station will contact you directly on your phone. Today's technology also allows alerting through email or an app on your phone. These sensors can be used in various places (sump pumps, basements, cellars, garages, near water pipes, etc.) where there's a risk of water leaks or flooding.
Types of Water Sensors
There are two types of water sensors:
Water Detection Sensor- Installed in water-sensitive areas, as soon as the sensor gets wet, it sends a signal to the home security system which then notifies the occupant.
Water Level Float Sensor- Usually installed next to a sump pump, this will alert you when your weep hole where your sump pump is located gets close to overflowing.
This also is one of the best features to have on your home security system so you don't come home to a flooded basement.
3. Temperature Sensors
The purpose of a temperature sensor is to alert the homeowner that there is a drastic change in the temperature of a sensitive area.
These sensors are fairly simple as you can monitor a range so you can be alerted if the temperature goes outside of a specified range.
These temperature sensors include two basic physical settings:
Low-Temperature Alarm (As low as -40°C)
High-Temperature Alarm (As high as 60°C)
Temperature sensors are best suited for cottages, wine cellars, garages, etc. Anywhere the temperature has to be monitored and should not go too high or too low. If your heating or air conditioning stops working, having a temperature sensor on your home security system will ensure you are notified right away.
4. Carbon Monoxide Detectors
Carbon monoxide is a harmful gas produced during the burning process or combustion. This gas is capable of cutting the oxygen intake and taking lives when it exceeds a specific limit.
Carbon monoxide detectors for homes protect the residents from CO gas produced by improper combustion in appliances like furnaces, gas ovens, gas hot water heaters, or anything with a gas line. These detectors only sense Carbon monoxide gas and don't detect smoke.
Carbon monoxide detectors can be added to any home security system. There are both hardwired and wireless types. The wireless ones are great as they can be placed in specific areas where running a wire could be difficult.
5. Medical Alerting Devices
Medical alerting devices or a medical pendant will give your loved ones the independence they require while keeping help just an alert away. Whenever the elderly or disabled need help, these devices help in providing them assistance. They may also prevent any further injury or death after the person faces a fall or during other emergencies.
Types of Medical Alert Devices:
The two types of medical alert devices are:
Wireless Pendant– Can be carried throughout the home.
Fixed Button– Usually in a bathroom or in a bedroom next to the bed.
These devices are the same devices that are used on home security systems to alert police. Instead, they are programmed to alert the paramedics.
Without a doubt, keeping your house, cottage, facility, workshop, or condo unit safe from disasters and potential robberies is essential. Not only your life at stake but also many others are at risk too. Incidents and accidents come unannounced.
So, it's better to stay safe than sorry in the long run. Among these five types of home security devices, choose the ones that your place requires. I highly recommended anyone with a home security system to consider any of these devices if your situation applies.
Although we hope to never face any tragedies, being prepared for it is the best decision.
Content help by an industry expert
This content is created with the help of an industry expert Marcel Paré, who is a Security and Network Cabling Technician who runs Border City Security and Communications. With 13+ years in the security and network cabling industry, and a background in Mechanical Engineering, he's passionate about sharing his knowledge with others on his BorderCitySecurity blog.