Lighten Up You Car Wash With New Ceiling And Walls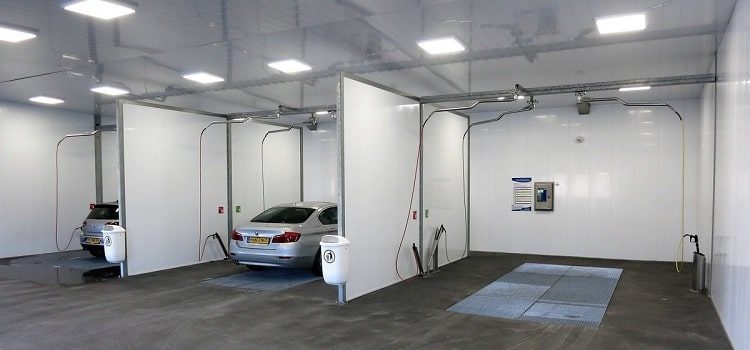 Whether you are starting a new car wash business or thinking of revamping the old premises, one of the most reliable options is to make use of PVC wall panels. There are some very economical ways to build professional car cleaning premises in a supreme and attractive way.
We know that if the area of car washing is very dark and not appealing then ladies would not feel safe to come there. Thus, you will lose on customers. Therefore, you need something that is appealing to ladies as well as gents. Today many business owners are making use of PVC wall panels for car wash because these are highly efficient, graceful and cost-effective.
Beat the competition using new ceilings and walls that can last for years:
Car wash industry is extremely competitive and owners should ponder upon some effective ways that can engage the attention of spectators. No marketing can be helpful if your car washing facility doesn't look great. If you have a female employee then she will also not feel safe in such a dark wash environment. So what you can do?
You can make use of plastic wall panels and ceilings to draw the attention of spectators. It will brighten the PVC finish and add some appeal to the wash walls in a distinctive way. Make sure to purchase the PVC wall panels from a reputed company so you get good quality panels.
If you build the area with the panels then it will reduce the noise levels and lessen the temperature fluctuations. When the temperature becomes high or low it becomes difficult for the employees to work. It is also problematic for the customers to stay on the premises for a long time. Using best quality interior plastic wall paneling will allow to maintain the temperature, and add some grace to the car washing area. It will look inviting. You can choose insulated wall panels as well depending on the seasonal changes.
If you make the car washing premises look beautiful and bright, then attracting new customers and retaining the old ones will become easy. You don't have to worry about increasing your profits as well, because customers will be attracted by the look of your car washing area.
Why bright PVC panels for car wash areas are important?
Many car washing businesses make use of plastic panels for ceilings and walls today. The reason being, these panels are bright and shiny and they are economical as well. Let's check why you need bright panels.
Comes in different and adds a fresh appeal to the area: They come in white and different other colors which can be customized as well. The panels add a fresh touch to the wash area and offer a protective waterproof finish to the walls and ceilings. These are very easy to maintain and the need for upgrading them is also eliminated.
Brightness can be maintained every day: There are multiple bays where the cleaning process is implemented. If you use something that deteriorates after some time then maintaining it will become costly and time-consuming, but if you make use of PVC panels for ceilings and walls then you don't have to worry about the maintenance. As the finish is smooth, the grime and soap which gets stuck on the walls and ceilings can be taken out easily with a simple wipe. You don't need to spend time and money to clean them. It is a simple process to get rid of the grime or dirt which usually sticks to walls and ceilings during the car washing process. Thus, the brightness of the car wash area can be maintained every day without any hassle.
The safe and secure environment for females: Your customers will also feel secure and comfortable in such a bright looking environment. The tongue and groove paneling system looks seamless in appearance that can last for years. The female staff and customer will feel good in such an environment.
The installation process of the car wash panels is also simple. You do not need any professional help. You will just need some guidance and it will be easy to do it on your own. You can also remove the ceilings and use it somewhere else depending on your choice. The flexibility and durability factor make these panels a choice for the car washing industry business owners.
Conclusion:
So, take immediate steps to lighten your car washing area using high-quality PVC panels for ceilings and walls. This cost-effective solution will not just enhance the beauty of the professional car cleaning area, but it will also attract customers. At the end of the day, you can expect a good reputation of your business in the market and better profits.