What Is The Point Of Having Scaffolding During Construction?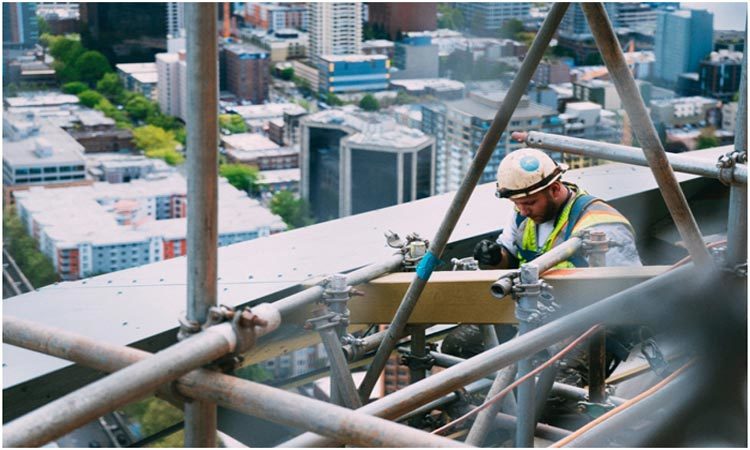 If you are wondering why the construction industry still uses scaffolding, you have come to the right place.
This type of structure is mandatory when working at heights. It's a provisional structure which supports the original structure of the building.
Scaffolding functions as a platform for workers to perform construction work.
They should be strong, firm, and well-built to support both the workers as well as other construction materials laid on it and should perform the following functions:
Guaranteeing the safety of construction workers
Ease of accessibility
Ease of positioning
Improves productivity
Guaranteeing The Safety Of Construction Workers
Safety is an essential feature with any construction site. Scaffolding provides a safe working environment for construction workers to perform their jobs.
Construction workers have to work at various heights depending on the type of construction project.
Scaffolding is imperative for creating a safe workplace for all workers in the industry. Multiple workers can perform their tasks concurrently thanks to the scaffolding structure.
This type of structure will contribute to faster construction projects. Workers can maintain their balance on a scaffolding structure and avoid accidents and injuries in the process.
The best scaffolding structures have hand railing on the top-most platforms to reduce the possibility of injuries.
Ease Of Accessibility
The construction of highrise buildings isn't an easy task. Construction workers find it difficult to reach the upper parts of the building when performing their work.
Scaffolding is the best way to reach such parts of highrise buildings and complex construction projects.
Workers can pay attention to their work at hand without any distractions with the right type of scaffolding.
The worker can easily reach any part of the construction project without any hindrance due to the scaffolding structure.
Without such a structure, it is difficult to successfully complete a construction project. That's why you need to rely on scaffolding for your construction projects.
Ease Of Positioning
The positioning offered by scaffolding structures is quite convenient for the worker.
The construction worker can reach any part of the building they have to work on without any problems thanks to the scaffolding structure.
Multiple workers can work side by side simultaneously with scaffolding structures. That's why you need to invest in scaffolding for your construction project.
Your workers will be safe and secure with the right type of scaffolding structure.
Improves Productivity
Scaffolding allows multiple workers to work simultaneously. All workers can carry out their tasks with ease and without any fear of accidents or injuries.
This is important to help increase the productivity of your construction project. It will improve the bottom line of your construction company over time.
That is why you need to hire scaffolding structures for your construction site from a reputable scaffolding company in Australia.
Australia has its own share of scaffolding companies so your research is crucial to finding the best scaffolding service for your construction project.
SkelScaff is a trusted name when it comes to scaffolding services in Australia. They are one of the most reliable and experienced scaffolding providers in Wollongong, Sydney.
They provide scaffolding structures and equipment on hire. With SkelScaff, you have peace of mind that you are working with one of the best scaffolding companies in Sydney.
Safety is their priority and the company guarantees scaffold compliance with Safe Work NSW requirements.
They provide all the paperwork so that you have no delay in getting on with the job. That's why you need to choose SkelScaff for all your scaffolding needs in Sydney.