Although it may be the smallest room in your home, the bathroom is always the most expensive to renovate. All those fancy porcelain fixtures and designer tiles add up fast, while the labour costs required for plumbing work can quickly spiral out of control. And you certainly don't want to spend all that money to end up with a dodgy result that doesn't suit your daily needs.
Nevertheless, with proper foresight and meticulous planning, it's possible to renovate a beautiful brand new bathroom without breaking the bank. Keep our following five mistakes in mind for the best chance of success.
Bathroom Renovations Mistakes to Avoid
1. Trying To DIY Everything
Labour costs in Australia are outrageous, so it stands to reason you could save serious coin by doing the renovation yourself. And you can, to a certain degree. With a little expertise and a lot of hard work, the everyday Australian can DIY simple cosmetic tasks such as tiling, painting, and grout removal.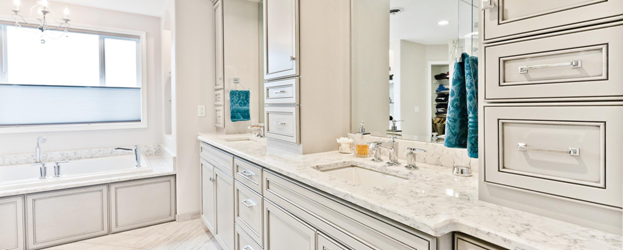 When it comes to the plumbing and electricals, however, you need professional help. Only a licensed tradesperson can legally do these tasks, leaving you vulnerable to all sorts of severe consequences if you decide to DIY. Furthermore, you could easily commit an error along the way, and that would cost you much more in the long run.
2. Spending Too Much or Not Enough
It's crucial you keep your practical and aesthetic requirements in mind when planning a bathroom renovation. If you live alone in a one-bedroom apartment, then you won't need a massive and elaborate space. On the flip side, growing families will have to consider their needs carefully.
In the same vein, a modern luxury bathroom will look a little out of place in an older unit, while it's worth splashing out on something special if you're living in the penthouse suite. So how much should you spend?
There are too many variables to give you a solid answer, but keep in mind that most Australian bathroom renovations run between $12,000 and $27,000.
3. Doing More Than You Need To
Most renovations seek to rectify an outdated look, which is pretty reasonable considering the bathrooms of old don't align with current contemporary designs.
If that's the case for you, then limit your renovation to aesthetical changes. Moving toilets or showers around costs a fortune in labour for all the plumbing required, and is very rarely necessary. Also, keep a keen eye on your flooring, as replacing the tiles could damage the waterproof membrane and cost you a whole lot more than you bargained for.
4. Going For Form over Function
Although it may be tempting to opt for the ultramodern bathroom of your dreams, it's essential to stick with something that's suitable for your existing space. If a bathroom plan doesn't fit with your existing plumbing and wiring, then forget about it because you'll end up spending way too much. Likewise, the bathroom style needs to blend in with the rest of your home. Try putting a swanky modern design into an old historic house and it won't just look out of place, but it won't improve the value of your home either.
5. Hiring Unqualified Tradesman
Given the high cost of labour, it might be tempting to seek out workers at a discounted rate. That's highly inadvisable, however. Like all things in life, you get what you pay for in the construction industry. The reason why some fly-by-night operators can charge so little is that they're unqualified, uncertified, uninsured, or unskilled.
A tradesman who doesn't know what they're doing will cost you more in the long run, while an uninsured worker could leave you open to excessive legal fees.
Whether you're after bathroom renovations in Adelaide or anywhere else in Australia, being aware of these common pitfalls is crucial for success. Keep these five things to avoid in mind when building the bathroom of your dreams.