Proper lighting in your living room can transform the way it looks and feels just as furniture, textiles and paint colors have a direct effect on your room. With so many different and beautiful styles of ceiling lights, how do you choose which ceiling light is right for your space? Light can make a room feel comfortable or cold, relaxing or lively. It can make it appear larger or smaller than it actually is and can change the mood in the room, making it feel intimate and cozy or open and bright.
When choosing a living room decorative ceiling light, you can emphasize or minimize architectural details, shapes, texture and pattern. You can highlight certain features or minimize flaws. Lighting has the power to do many things. Choosing a decorative ceiling lamp is an important part of the design process. Here are a few tips on choosing a living room ceiling light that's right for your home.
Ask yourself these questions: What will you be doing in the space? Will you be relaxing and watching television or will you be doing some computer work or reading? You won't need a bright ceiling light if you also have a floor lamp for reading or a table lamp on a work surface. There are thousands of decorative ceiling lights that meet specific needs in your living room. The sky's the limit when decorating with ceiling lights.
Here are a few suggestions for narrowing down your lighting choices.
1. A simple and sophisticated ceiling light fits any decor scheme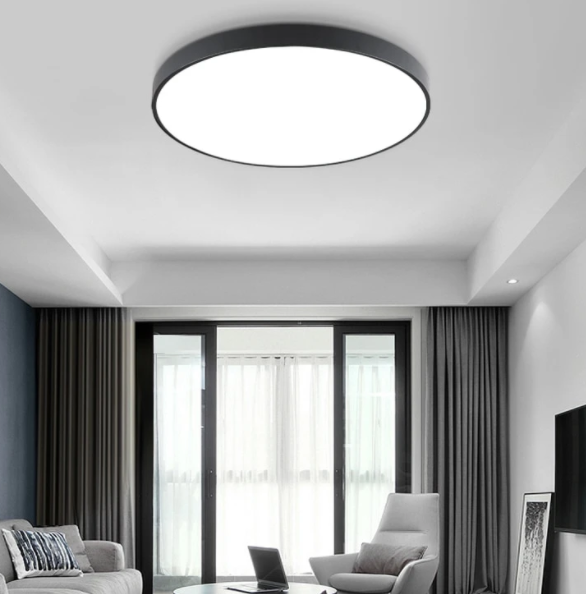 If the main ceiling light is for ambient (general) lighting, you have plenty of options. Consider a simple ceiling light that checks all the boxes regardless of your décor style.  This stylish round ceiling light is the perfect complement to any space.
2. This rotating decorative ceiling lamp doubles as a work of art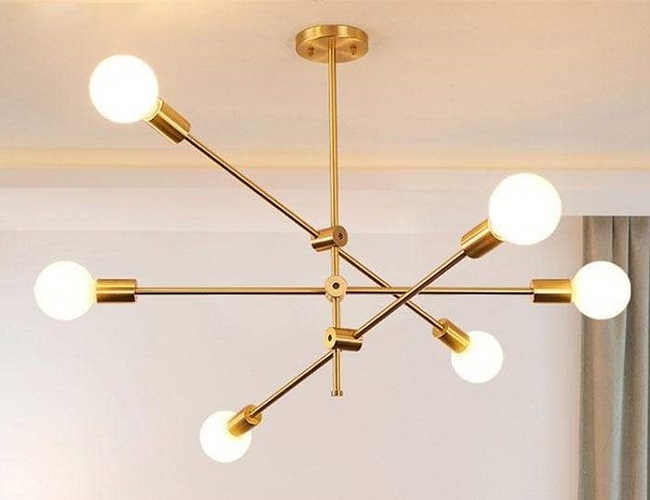 We love how this stunning ceiling chandelier rotates to create several unique configurations. This is the ideal ceiling light when you want to create a bit of drama in your living room, while also providing plenty of light for various activities. As this ceiling light hangs down quite a bit, it's beautiful in a room with high ceilings.
3. Create ambiance with ceilings lights that have matching floor or table lamps
Choosing ceiling lights that have matching table lamps, floor lamps or wall sconces is a great way to create a harmonious look in your living room. Lamps don't have to match exactly. You can choose styles with the same finish. Keep metals in the same color family (brass with brass, silver with silver, etc.)  If you have a fireplace, consider placing matching ceiling pendants on either side of the fireplace to create a cohesive look that is simply elegant.
4. Add a touch of luxury with suspended installations
A rod of light that hangs close to the ceiling or is suspended above a coffee table is a unique lighting choice that is fresh and modern. With this particular ceiling light, you can hang it horizontally or vertically to brighten the corner of the room. Hang multiple rods of light to make a statement with a style that's all your own.
5. In a tiny space, opt for a flush mount ceiling light or one that just skims the ceiling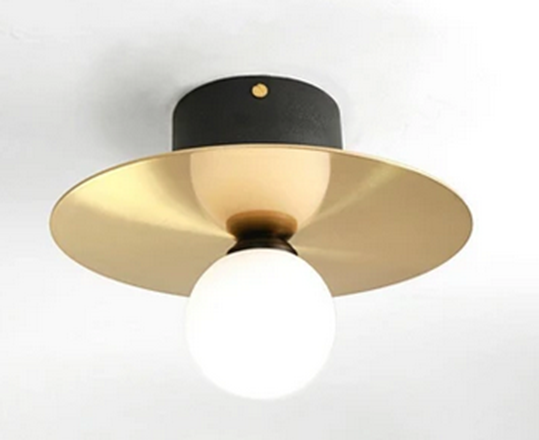 With a modern look and feel, this gold disk ceiling light is a gorgeous combination of sleek design and high gloss shine. The black iron base is highlighted by a shimmering gold disk that offers a stunning backdrop against a frosted glass globe. This trendy decorative ceiling light can also be used as a wall light, adding instant pizzazz to any room no matter where you hang it.
When looking for beautiful ceiling lights, modern and contemporary styles are everywhere. Read all about ceiling light styles and be sure to check out the vast selection of ceiling lights, decorative floor and table lamps and wall lamps that are available today. There are so many gorgeous decorative lighting choices that it's hard to pick a favorite. Don't limit yourself! While choosing a light for your living room, think about other rooms in your home too.
Images credit: Letifly