Are you looking for great ideas on how to remodel your kitchen without breaking the bank? It can be tempting to go for a full-scale renovation, but if you're looking for small touches that will still make a big impact, then this article is for you!
Discover five small kitchen remodeling ideas that are definitely worth it and how they can transform your cooking space into something extraordinary.
Let's Start With The Small Kitchen Remodeling Ideas
1. Update your cabinets
Kitchen cabinets are considered to be the most important aspect of a kitchen remodel. Cabinets can make or break a kitchen, and they are often one of the first things people notice when they walk into a room. If your cabinets are outdated or in disrepair, it can really affect the overall look and feel of your kitchen.
There are a few different options when it comes to updating your kitchen cabinets. You could opt for new, custom cabinets that are built to fit your specific kitchen layout. Or, you could choose to reface your existing cabinets, which involves replacing the doors and hardware while keeping the structure of the cabinet intact.
Both options come with a variety of pros and cons, so it's important to do your research before making a decision. But, regardless of which route you choose, updating your cabinets is sure to give your kitchen an updated look that will be worth the investment.
2. Update your countertops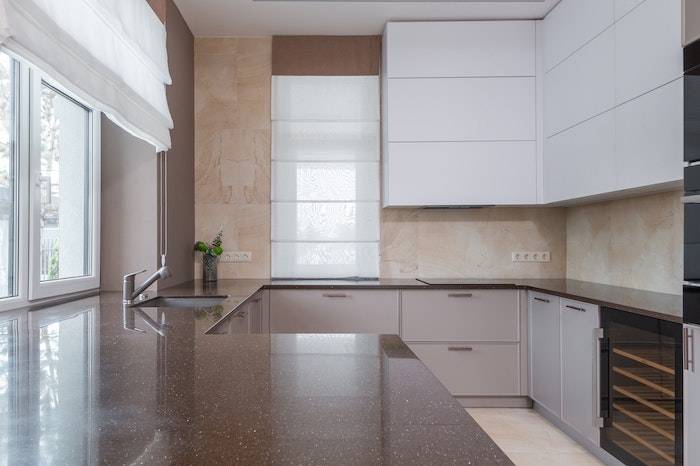 If your countertops are looking dated or you're just ready for a change, updating your countertops is a great way to give your kitchen a facelift. There are many different materials to choose from, including granite, quartz, laminate, and even concrete.
If you're not ready to commit to a full kitchen remodel, updating your countertops is a great way to make a big impact without breaking the bank. And if you are planning a larger kitchen remodel, new countertops can be a great starting point when it comes to choosing materials and finishes.
3. Redoing your backsplash
If your kitchen is in dire need of a facelift but you don't have the time or money for a complete overhaul, consider redoing your backsplash. This small change can make a big impact and is relatively inexpensive and easy to do.
There are many different materials you can use for your new backsplash, including glass, tile, and stone. You'll want to choose something that compliments the rest of your kitchen's decor and is easy to clean. Glass is a popular choice as it's easy to wipe down and comes in a variety of colors and styles. Tile is another good option, especially if you want something more durable that can withstand spills and splatters. Stone backsplashes are beautiful but require more upkeep, as they need to be sealed regularly to prevent staining.
Once you've chosen your material, it's time to install your new backsplash. If you're doing it yourself, you'll need to measure the area first and then cut the tiles or sheets of glass to fit. It's important to use tile spacers between each piece to ensure even spacing and avoid any gaps. If you're hiring a professional, they will take care of all the measuring and cutting for you.
Installing a new backsplash is a great way to give your kitchen an updated look without breaking the bank. With so many materials and styles to choose from, there's sure to be something that fits your taste and budget.
4. Updating your sinks
Updating your sinks is a great way to give your kitchen an updated look. You can choose from a variety of different materials, sizes, and colors to find the perfect sink for your kitchen. You can also add a new faucet and hardware to complete the look.
5. Updating the faucet
Updating an old or outdated faucet is a small kitchen remodeling idea that can make a big impact. Whether you're looking to update the style of your kitchen faucet or simply want to replace an old one, there is a wide variety of options available to choose from. If you're not sure where to start, take a look at some of the most popular kitchen faucet styles on the market today:
Pull-down Kitchen Faucets: As one of the most popular styles of kitchen faucets, pull-down models offer a high degree of flexibility and functionality. These types of faucets typically come equipped with a sprayer hose that can be used for tasks like rinsing produce or filling pots with water.
Touchless Kitchen Faucets: Touchless kitchen faucets are becoming increasingly popular in recent years thanks to their hands-free design. These types of faucets are ideal for busy kitchens where cleanliness is a top priority as they help to prevent the spread of germs.
Single-Handle Kitchen Faucets: Single-handle kitchen faucets offer a classic look and feel that many homeowners prefer. These types of faucets are easy to operate with just one hand, making them ideal for small kitchens where space is limited.
Double-Handle Kitchen Faucets: Double-handle kitchen faucets provide additional stability and control.