Learning how to increase curb appeal is a valuable skill for any property owner. Aside from the fact that more curb appeal will give you more satisfaction in your home's appearance, it can also keep you in the good graces of your neighbors.
You might have a misconception that figuring out how to make your house look nicer is going to involve a lot of time and expense. This doesn't have to be the case. Here are a few methods that professional landscapers use, and you can achieve the same results.
1. Create Pathways
Creating pathways is another trick of professional landscapers. When you do this, your outdoor areas can appear much larger than they actually are. You can use stones or even those planters we mentioned to make pathways that connect one part of your lawn to another. This has an old-world appeal that many people love.
You don't have to be fancy about it, either. You could simply incorporate hedges and flowering bushes to create the illusion of space. When done properly, pathways will not make your yard look cluttered. They will give it a natural flow.
2. The Creative Use of PVC Planters
Flower beds are attractive, but a PVC planter can be more versatile. For starters, you can move the planter whenever you desire to accommodate different scenarios and seasons. Most planters come assembled and ready to use, and they can even be painted to match the decor of your home.
Using a planter creatively is what makes all the difference. You don't have to opt for the standard placement in front of the home. Use them to line your driveway or to accent a bench or swing. You can even combine them with your children's outdoor toys to create a miniature park.
3. Window Boxes
Few things can make a window look better than a PVC flower window box. Window boxes can be used inside or out, and they are amenable to a large number of plants. You can choose climbing or trailing varieties, and window boxes will also support smaller plants. You can even plant some vegetable varieties in them.
There is a trick with using window boxes. You want to start your window box with new plants. Do not try to transplant varieties from your existing garden. Because window boxes offer such little space, they need to be filled with young plants that will adapt to the smaller growing environment.
4. Use Winter Months To Make Small Repairs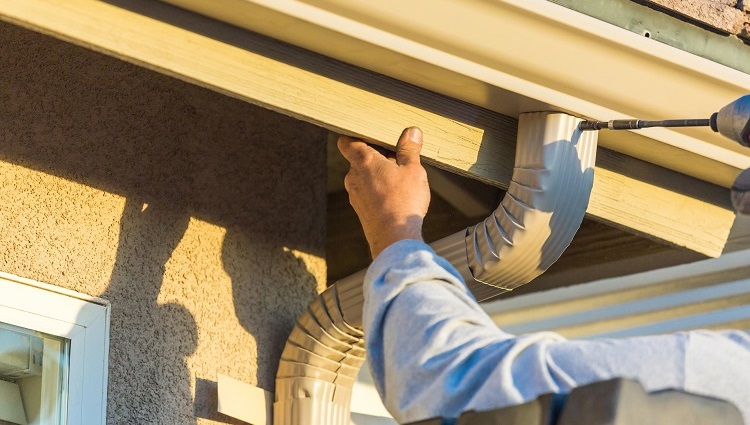 If you wait until the arrival of spring to begin addressing repairs to the exterior of your home, you're going to be overwhelmed with the amount of work that needs to be done. Get a head start by performing simple tasks during the winter months.
You can inspect and repair your gutters while hanging Christmas lights. Inspecting windows for drafts is also a great time to take note of broken shutters, missing screens, and old wasp nests. These are simple repair projects that take only a moment to accomplish.
Remember, a responsibility of owning a home is keeping it looking nice. Also, if you ever decide to sell, you will be happy you took the time to make your house presentable.