Creating an exquisite and modern workplace isn't reckless extravagance— it's a necessity. Your employees have the right to a workspace that stimulates their creativity, collaboration, and communication while also reducing their levels of stress and anxiety.
This will directly impact their productivity, while directly contributing to your organization's returns. This study reveals that employees who love their physical workplace are 16% more productive.
There are no fix rules for designing a great-looking office. Your choice of a workspace layout should depend on the type of work, aesthetics, amenities, and your company's brand.
Picking the best layout can be tricky from the many available ideas, and that's why you should go for the modern and most popular ones.
We'll make it simpler for you.
Here are some of the best modern workplace trends from around the world
1. Hybrid Office Layout
A hybrid office layout is one of the newest designs in town, and the future of workspaces since the onset of the COVID-19 pandemic.
With this design, you can blend and match different environments to create a more flexible office space.
It will help you to create a balance between open and enclosed spaces to ensure your employees have different areas to match specific tasks (collaborative workstations and private workspaces).
A hybrid set-up will allow your employees to work from any location, either from home or from the office. With this distributed form of working you will promote a better work-life balance for your employees, ensuring employee satisfaction and reducing the costs associated with office space and facilities usage.
Shift your focus away from open floor plans in favor of a mix of work areas that better meet your employees' needs.
2. Biophilic Office Design
Bring the outdoors to your indoor environment! As humans, we all have an instinctive bond with nature and our surroundings.
Take advantage of this bond and improve the health, concentration, creativity, and work performance of your employees.
ou can do this by including natural light, flowing water, plants, and views of nature in your workstation aesthetics.
This design is getting popular in U.S workplaces. Apple, for instance, has created a tree-filled UFO in California.
Central Atrium of the Federal Center in Seattle, Washington has incorporated natural lighting by using high glass ceilings. Their office spaces also have gardens consisting of flowing waterways and plants.
3. Co-Working Office Layout
If this century gave us anything worthwhile, it's the co-working office design. Imagine getting workspaces with all the aspects of a modern office provided by a third party without having to create it yourself.
All you need to do is pay a monthly fee to be part of it. Sounds great, right? They mix digital-age business facilities with lifestyle spaces like cafes and fitness centers to help your employees achieve a balance in life.
This design will connect you with people from different businesses and industries, providing a good environment for collaboration and making it easier to share, learn and grow from each other.
It will also cater to all your company's needs because it has a wide range of workspaces for different working styles and functions including meeting rooms, event halls, and office suites.
4. Team-Based Office Layout
If you have an organization where work heavily relies on employee interaction, meetings, and discussions, this design suits you.
You will be able to group your employees into clusters and designated areas to ease communication and workflow. This will further improve brainstorming and collaboration among your employees.
When you group your employees based on the type of work they do, you will reduce the need to have other rooms such as meeting rooms in your organization.
This will in turn reduce the cost of setting up your office.
5. The Flexible Workspace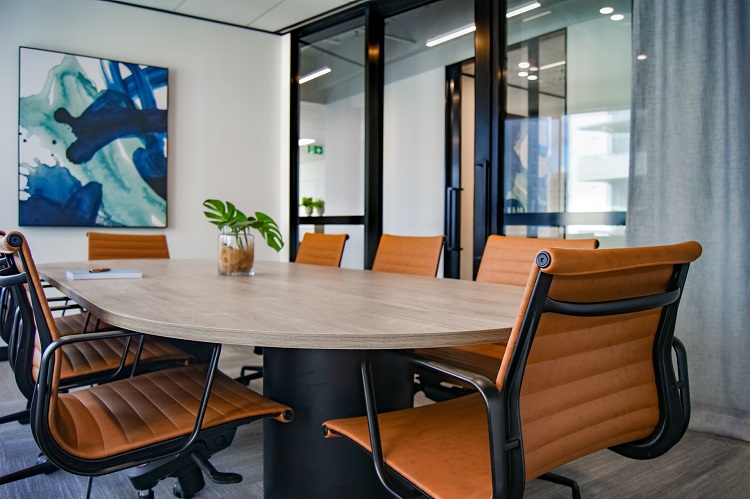 You should invest in quality and trendy modular office furniture that will offer incredible flexible workspace features that are easily movable and easily resizable.
The locations of desks, chairs, and tables in your office should not be fixed. Purchase furniture that can be easily and quickly resized and moved by attaching and detaching their modular components.
Let your employees be at liberty to choose workstations where they can fully concentrate and focus on their work.  This unassigned seating arrangement will enhance the overall performance of your employees by improving collaboration on short-term and long-term tasks.
In Conclusion
You now have the knowledge of the best modern office designs. The only important thing to take note of is their impact on your employees' health, collaboration, productivity, motivation, and the cost of setting them up.  They come in a wide variety. Therefore, picking the wrong one can have a negative impact on your company's culture and the welfare of your employees. Design a home-like environment filled with physical comfort and sees your company scale the heights of corporate excellence.