Which Carpet is the Easiest to Clean According to the Type of Fibre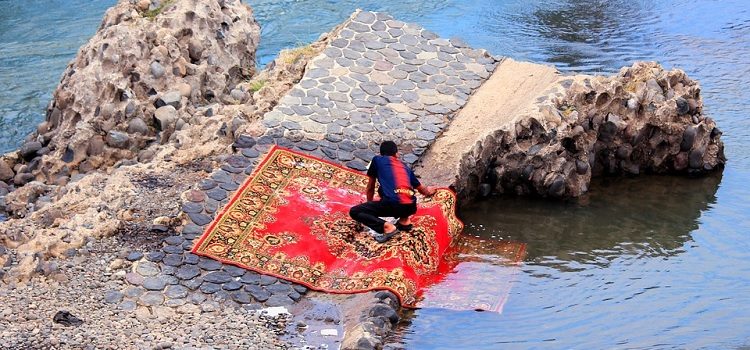 The vast choice of carpeting available on the market today makes it hard for consumers to choose what to get. They often find it difficult to form a preference due to the extensive list of factors that may make one type of carpet more desirable than another. And once aspects like color, price and pattern are satisfied, people naturally raise the concern about the level of maintenance their investment would require. So, if carpet upkeep is what contributes to your general bewilderment and hesitation before you proceed with your purchase, then, you've come to the right place.
How easy is to clean your synthetic or natural carpet
The carpet industry continuously evolves to satiate the consumer's growing demands for beautiful, trendy, easy-to-clean, lasting and affordable carpeting. From traditional petroleum based soft floor coverings or carpets and rugs made from historical natural materials like wool, jute, sisal, cotton and silk to revolutionary blends of bio-plastic and natural fibres – manufacturers continuously strive to create some truly innovative, stain-resistant and resilient flooring textiles. So, let's explore in detail the most common carpet cleaning and maintenance techniques and evaluate their effectiveness on different types of carpeting.
Vacuuming
Vacuum cleaning is a standard DIY floor maintenance procedure that you would perform regularly to remove hard soiling from your carpet. Nothing new here! But vacuuming can bring you to tears if you own a long-pile carpet like shag or frieze. These hide small particles and hard soiling very well, which not all types of vacuum cleaners can successfully extract. Did you know that, soon, the amassed grit, dust, pet hair and crumbs will weigh double the weight of a deep-pile carpeting if the latter is not cleaned properly with the right equipment?
Also, a never winning battle is to vacuum almost any type of cut pile carpet. The cleaning machine never fails to leave disappointing tracks where you have stroked backwards and forwards with the hose. Plush carpets are especially prone to shading, so if you don't like to exhibit your shoe size or always have random marks on display after an enthusiastic spell of vacuuming, go for a Barber or a Saxony carpet.
Viscose or viscose-wool blended carpeting should be vacuumed gently and without applying too much pressure to avoid abrasion.
Stain removal
The most popular traditional fibre materials used in carpet manufacturing are nylon, olefin, polyester and wool. They all have a different level of stain resilience, depending on what type of soiling has contributed to the formation of the stain. For instance, nylon carpets are not easily attracted to oils but will immediately show the acidic water-based spot if your child spills a glass of soft drink. In addition, bleach and chlorine are never kind to nylon, hence, you should avoid using harsh chemicals that contain those.
Olefin, on the other hand, is a synthetic fabric, which is very much water-resistant. Acid dye spills, like juices, are also not a problem to clean up from an olefin carpet flooring. Oily stains, however, may prove hard to be removed.
Polyester has very similar characteristics to olefin but it is less durable. Therefore, it is a preferred floor covering solution for low-traffic rooms. You should keep in mind that polyester carpets are only semi-resistant to bleach and chemicals.
Wool is a natural fibre, which has a long history in carpet manufacturing. Carpets made from wool are long-lasting and can be cleaned easily, as long as spills and soiling are addressed promptly. Wool is water-repellent, so if you do not allow for the liquid to soak into the fibre, you should not find it difficult to eliminate the risk of a stain appearing on you expensive wool carpet or rug. Beware, though, that wool will dissolve in bleach.
Delicate natural materials like silk and cotton should be cleaned with a high level of care. Silk does not take kindly to any type of chemicals. Hence, it is best to turn to the professionals when it comes to removing stubborn stains and deep cleaning your silk rug or carpet. With cotton rugs, you should avoid using alkaline cleaning products because they can damage the fibre.
Deep carpet cleaning methods
The two most popular professional deep cleaning methods used on carpets – steam cleaning and dry cleaning – are generally suitable for most man-made fibres. Both techniques use chemicals and the key to a great end result is to apply the right type and amount, which would be safe for the particular material your carpeting is made from. According to the carpet cleaning experts from Go Cleaners, alkaline detergents are not recommended to be used on nylon carpets. Also, viscose floor coverings are best dry cleaned by employing non-harsh chemicals. Hence, always follow the manufacturer's instructions and seek advice from the cleaning experts.
As a general rule of thumb, the dry treatment is more suitable for delicate fabrics, which are usually made from a natural material. Woollen carpeting, however, can be steam cleaned, as long as the cleaning product that you apply is gentle and appropriate for use on wool. Note that for a couple of days, the fresh steam-cleaned woollen carpet or rug may emit a specific odor, which will go away, however.
Preventive maintenance tips
The following common sense preventive maintenance tips will help you enjoy your carpet for many years and keep it in a near-new condition:
Place mats at entry points of your home, in order to contain hard soiling before it is tracked onto your carpets.
Vacuum regularly – at least once a week – as dirt and grit may ruin the structure of the carpet fibre by acting as an abrasive.
Blot gently any accidental spills as soon as they happen to avoid staining.
Modern carpets are colour-fast, however, ensure that you always patch test a stain removal solution on an inconspicuous area to avoid the mishap of damaging the colour of your carpet.
Hire professional help when it is time to deep clean your carpet flooring.