Creative Outdoor Design and Decor Ideas to Turn Your Home Exterior from Drab to Fab
This is the age of beautiful and functional outdoor spaces. With more people choosing to spend more time in the comfort and convenience of their home, it has become a global trend to create outdoor havens that allow them to live happily, and entertain friends and relatives with greater ease.
Porches, patios, terraces, lawns, and gardens – all these hold great potential in making a home a hub for joy, especially if you have a budget earmarked for improvements.
If you are looking to start making use of your home exterior space more but you do not know how to launch into the task, rounded up below are creative outdoor design and decor ideas to get you started.
1. Install a durable sliding patio door
If you must make one change to your outside space, take care of the entryway first.
You have no idea how much of a difference connecting your home interior and exterior will make via a door, and not just any type of door but a sliding patio door. This way, you get a clear view of the outdoors (and vice versa).
Sliding patio doors are even more ideal if you do not really have a spacious outdoor area. They come in a variety of sizes, and do not swing out and take up more space.
Having a sliding patio door creates a smooth flow and ease of movement from the inside of your home to the outside. Plus, it provides the lovely advantage of natural illumination and ventilation for your house interior.
2. Install windows on solid decks or parapets
Adding windows to the design of your deck or garden parapets is both a charming tactic as well as functional. Louvre windows are popularly used in tropical-style home decks.
Casement windows or vertical slider windows, on the other hand, look especially nice on stone parapets or exterior walls. They provide a peek into the scene beyond, such as your neighbour's flourishing garden.
Faux windows are nice add-on features, too. They are often used to achieve symmetry for the overall design of the outdoor space.
3. Paint cinder blocks and purchase some lumber
If you want budget-friendly seating in your outdoor space, cinder blocks and lumber are the way to go. They are much cheaper than lawn furniture sets but just as useful and lovely.
They are quite versatile, too, because you can configure them in different ways to suit your style and utility requirements.
Plus, you can design them any way you want. Painting those cinder blocks and pieces of lumber is easy so you end up with colourful, weather-resistant outdoor furniture. You can also accessorise them with cushions and pillows so they become pretty and comfy.
Got extra cinder blocks? Use them as planters for succulents or herbs.
4. Gather pallet boards to serve as low coffee tables
Need a table for your DIY outdoor seating?
Just head to your nearest local grocer and ask (or buy) for pallet boards. Paint them with outdoor decking pain and stack them to create a sturdy coffee table that also doubles as a storage solution.
The pallet boards and seating make for a cosy outdoor destination spot right inside your property.
5. Invest in colourful pots to colour your outdoor space
Growing blooms can be a challenge but you can provide your outdoor space with lovely pops of colour even if you can only grow succulents. Just invest in high-quality vibrantly coloured plastic pots.
They are available in most home depots. Plus, they are quite affordable and easy to drill a hole into for irrigation purposes.
6. Install whimsical lights
There's nothing like a patio, porch, gazebo or terrace suffused with a warm glow at night to make "hanging out" a delightful activity for the family.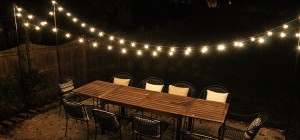 Everything from solar-powered torches to strings of bistro lights, spotlights, luminaries and outdoor chandeliers — all these can elevate the look and feel of your outdoor space.
A few changes can have a huge impact on the look and utility of your property. Choose any of the ideas shared here, or implement them all to make your outdoor home space a truly delightful place to be.
AUTHOR BIO
Carmen Velilla is an experienced Brand Manager currently overseeing the strategic development of multiple brands as part of the Epwin Group. She is an Associate Member of the Chartered Institute of Marketing (ACIM), specializing in Corporate Communication and Digital Marketing.