7 Steps For A Hassle-Free Kitchen Renovation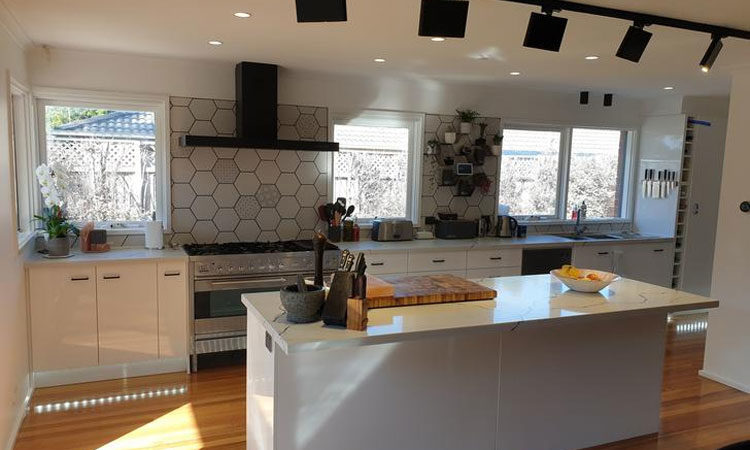 So, it's finally time for a kitchen renovation. You've been putting this off for years, but you know you just can't delay any longer.
After all, the kitchen is the center of the household, the homebase for the family. If you're going to spend that much time there it pays to make it a warm, inviting space. Plus, kitchens and bathrooms still sell homes and you don't want to take a hit on the sale price of your house if you're ever forced to sell.
Still, renovations can be daunting and if you can't find the right people, it can be an absolute nightmare.
You need help. I'm here for you. Here are seven tips for a hassle-free kitchen renovation:
Plan and Save
Like when doing anything of importance in life when renovating a kitchen, the first step is always planning.
Before you even think of hiring a contractor or designer you need to make sure you have the necessary funds and available time to get through the entire renovation. That means doing a lot of research. To help get you started, I'll let you know that on average, a kitchen remodel in the U.S costs $24,201 or $150 per square foot and takes around three months.
That's a lot of cheddar and time. Don't get overwhelmed. It's possible to renovate your kitchen for less. Still, taking the $150 per square foot number as a starting point makes a lot of sense. The reality is the majority of kitchen renovations cost more than originally anticipated.
The last thing you want to happen is to run out of funds while you don't have a fridge. A good rule of thumb is to save 25% more than your kitchen renovation is expected to cost.
Although your final costs will change down the line when you create your final pre-construction budget, it pays to plan ahead and save—even before designing your new kitchen.
Hire A Designer, Or Start Designing
After you've done your financial planning and made sure you have the required capital to finish your renovation, it's time to either hire a designer or DIY!
Designing your kitchen by yourself can save you thousands here. Picking materials and developing a unique style is easier than ever in 2020 thankfully.
First off, there are a number of sites like HGTV and DIY Network to help inspire you. You can see all the most common style types and make your picks all online.
Then getting the materials at stores like Floor & Decor, Home Depot, Lowe's, and other local suppliers is fast and easy. In 2020, there is no need to have your contractor or designer buy all the materials. The reality is during a renovation, the more you do by yourself and shop around, the more money you will save.
So, If you have the time, I recommend going full DIY with the design and only getting some input from the professionals if you get stuck. That way you will be 100% sure you love your new kitchen—before it even goes in.
Hire A Contractor
By FAR, the most important step in your kitchen renovation will be hiring a quality, reliable contractor. I can't stress the importance of this step enough. This person will be almost wholly responsible for the next couple months of your life being pleasant or an absolute nightmare.
Don't believe me? Just type in home improvement horror stories on google, and try not to get talked out of renovating your kitchen all together.
Contractors are the foreman of your kitchen renovation. That means they hire everyone needed, plumbers, electricians, laborers, it all depends on your contractor. Looking at online reviews can help you weed out the really bad contractors (See: Arizona Registrar of Contractors: azroc.gov), but finding a great one isn't easy. The best contractors are booked months or even years in advance(another reason it's important to plan ahead, see step #1).
Ultimately, you need to find a contractor who is licensed, honest, and willing to give you a construction contract and references before work begins. The contract should outline all known expenses and any unforeseen costs should then be handled with a change order to fix the contract.
Take your time when looking for a contractor, it's well worth being picky.
Your Final Budget
Ok, you may think this step is out of order, but it's not. The reality is you can't make an accurate budget for your kitchen renovation until after you've hired your contractor and decided on the design and materials for your renovation.
Now that you have a solid idea of what the actual costs will be, it's time to budget for up to 25% more than the on paper costs. I promise you will thank me for this. The number of renovations that end up costing 100% more than the original on paper price is astounding.
That's why it's vital to plan and save, then create a final budget just before beginning construction. If your contractor begins to add costs the budget will help you stay on track and fight back against increasing expenses.
Prepare For Setbacks and Increased Costs
Kitchen renovations, 9 times out of 10, are going to take longer and cost more than originally expected. Be ready for this. Prepare for setbacks, increased costs, and endless frustration. Believe me, it will come.
Whether you find mold in the walls, plumbing issues, or you accidentally order the wrong materials, a lot can go wrong. It's rare to see a kitchen renovation go off without a hitch.
That's why I recommend budgeting more than necessary. Of course, if you can't budget 25% more than what has been quoted to you, then it may be time to think about ways to decrease costs by doing some DIY work.
For example, you can save over a thousand dollars by doing the demolition work yourself. You're going to have to get a dumpster anyway. If you have the time and a strong back this is a great way to save some cash and give yourself the peace of mind that your kitchen renovation will be fully funded even when unexpected costs arise.
Doing some painting or other unskilled labor yourself is another great way to save money and prepare for setbacks and increased costs.
Chose Quality, Don't Skimp On Extras
Choosing quality fixtures, cabinets, and appliances is another way to save money in the long run by avoiding costly repairs. However, not everyone can afford to go for the best.
If you have to go for cheaper options, make sure they have good reviews and will last. Don't buy two $1000 fridges instead of an $1800 fridge and think you are saving money. Also remember, the quality of your kitchen can go a long way to increasing the value of your home.
Going with quality during a renovation can be tough up front, but if you consider it as an investment in your home equity it becomes an easier pill to swallow.
Finally, don't be afraid to spend a little money on extras. Whether that be vertical blinds from Norsol for kitchen windows or LED lighting in the cabinets, little extras can help personalize and upgrade your kitchen for cheap.
Avoid Budget Busters
The final tip I have for you during your kitchen renovation is to avoid budget busters. Avoiding the most costly parts of a renovation like the removal of structural walls, adding rooms, bathrooms, moving appliance locations, etc. can help keep you on budget and maintain your sanity.
I understand you really want that open concept kitchen, but maybe opt for a half wall, or interior window that gives the same feel without the costs of removing structural features of your home.
For example, the average cost of removing a structural wall and adding a beam is around $3000. That's over 10% of the total average kitchen renovation cost.
Avoiding budget busters also means staying on top of your contractor and their workers. Simple mistakes, like a faucet that gets left on, can cause serious damage to your home and wreck your renovation budget.
Hopefully these tips will help you get through your kitchen renovation and avoid nightmare scenarios. Just remember to stay positive and roll with the punches and before you know it you'll be standing in your brand new kitchen.