Small Kitchen Design Ideas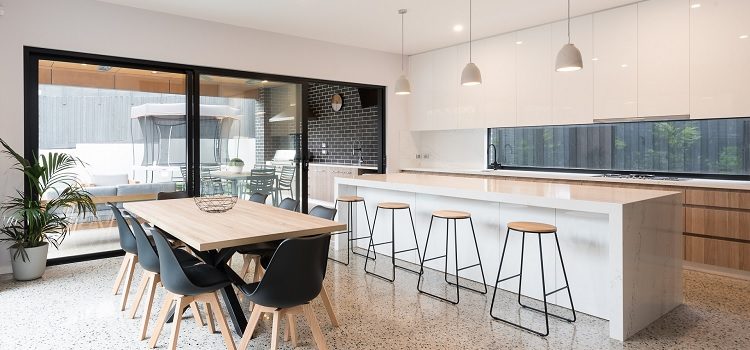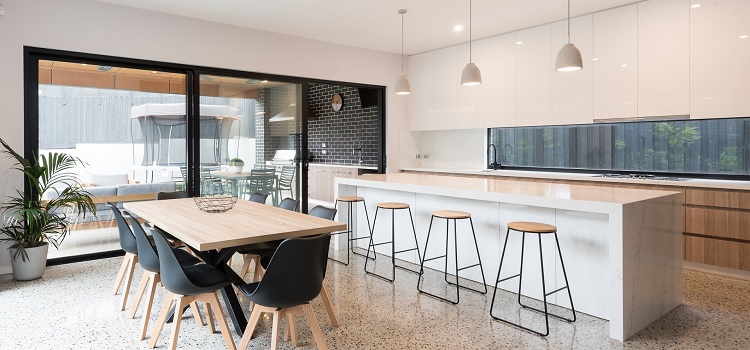 Have you not got a lot of space available? Looking to redo your kitchen? You're in the perfect place! Learn some fresh small kitchen design ideas right here!
Whilst it would be nice to have a large kitchen in your home, we don't all have the space available. Sure, a big and spacious kitchen will be the goal for every home, but if you're living in the city or even have moved into your first home, you might not be quite there yet. So, when you've got a small space available, how do you make the most of it?
Fortunately for you, we've got some great and inspired small kitchen design ideas to give your small kitchen a fresh feel. There are loads of tips and tricks that will help you make the most out of a small space when it comes to redesigning your kitchen. Here are our small kitchen design ideas for your new space.
Laying Out
When it comes to your new kitchen, you need to ensure the layout accommodates the space you have available. Especially if you have a small space, you need to ensure that you're making the most of it. So, when it comes to the layout of your small kitchen, you need to make sure that it is functional and makes sense. By this we mean, everything needs to be laid out in a way that makes the flow of work easy. This is an element that works in most kitchen design, but especially in small kitchen design, because having everything close together makes sense. Your hob and oven, fridge and sink should all be relatively close to each other, in a working triangle. Not only does it ease the work in the kitchen, but it clearly defines each space. You'll have a set area for cooking and food prep, and another for socialising. By defining spaces, your small kitchen will feel a little larger.
Lighting the Space
One thing that makes a kitchen feel so much bigger than it actually is, is the lighting you use. By maximising the light available in your space, you can help create the feel of a much larger kitchen, in a small space. Ensuring there is sufficiently natural and artificial light means that your kitchen will feel more open and welcoming. Brighter means bigger, so make sure that your small kitchen is well lit and maximises natural light. Consider different directional spot lighting, to set moods and make your kitchen feel larger. These task lights can highlight areas but avoid pendant on hanging lights as this will make your ceiling space feel smaller.
The Right Storage
Another key element in small kitchen design is to have plenty of storage. The more storage you have, the less clutter there will be. Nothing shrinks the appearance of a kitchen like unnecessary clutter. Sure, have the essentials out, and a few decorative pieces, but going overboard means that you're making your kitchen feel small. By including cabinets and cupboards that have lots of storage potential, you're able to clear the clutter, and make your kitchen space feel much larger!
Utensils and Appliances
If possible, pack away all non-essential appliances. The ones that you're not using daily should be hidden away in your vast storage space because clear counters help a kitchen feel bigger. As for utensils, the same rules apply. Clear them away! If we've said it once, we've said it a thousand times – clutter makes your kitchen feel smaller! So, utilise the storage space available and pack them away.
Colours and Styling
When it comes to the colour of your kitchen, it's essential to make sure that you don't do too crazy… See, the more colours you have, the busier it will look – which makes space feel small. Which is no good. Sure, mixing multiple colours is great when you have a larger space, with feature walls to highlight parts of your home. But, when you've got a small kitchen, you need to do your best to make the home feel bigger.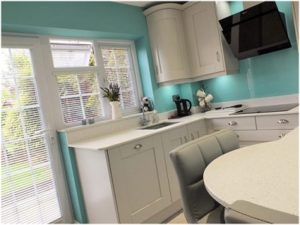 So, when it's time to choose colour, think neutral tones, that aren't too bold or busy. Try and keep colour schemes minimal, not pairing too many colours together. And if possible, use white or lighter colours especially when choosing a granite tile for your countertops.. These soft colours help reflect natural and artificial light around the room, making space available feel so much bigger. It's a great way to make your small kitchen appear larger.
As for styling, keep it minimal. A staple of modern kitchen design is the need for minimalism. Minimal décor, minimal colors and minimal clutter. That's why modern kitchens look and feel big because they focus on maximising space by using minimal design features.
So, if you've got a small space and are looking to re-design your kitchen, make sure you follow our tips to maximise your space. Make sure the layout of your kitchen is functional and has specific, defined areas. It's crucial to ensure your space is well lit with both artificial and natural light and have loads of storage. You should store all nonessential utensils and appliances away, to avoid clutter. Use simple colour palettes and soft tones to make sure your kitchen reflects light around the room, making it feel brighter and more open.