Looking After a Domestic Pool in a Holiday Villa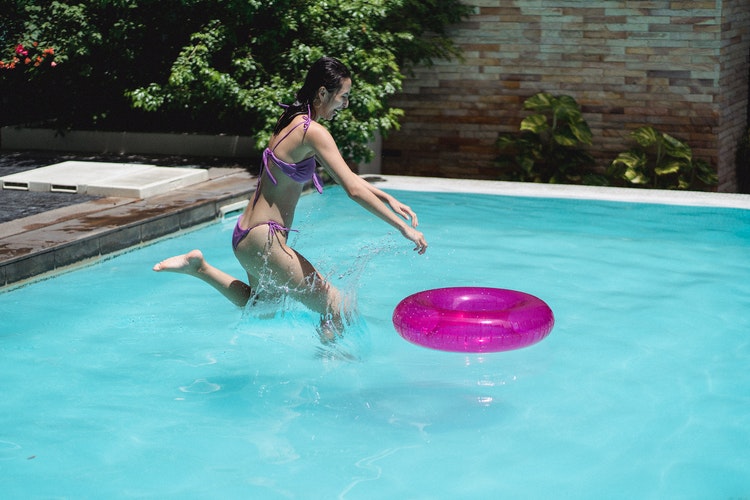 So, we were sitting on our balcony looking down at a pool that has not been touched since the last season says the owner of this villa complex. The pool has twigs and leaves floating on the top of it. I can also see dead insects floating on the top of the water. Also, something that looks like bird faeces floating on the surface. I can see below the water also, it's a very dirty mirky green, many large pieces of wood, branches and what looks like the brushes from a broom handle are on the bottom
Around the pool we have artificial grass that is covered in dust and some sort of white powder. The plastic trees are all missing pieces. In general, this is a terrible site for a pool.
The pool cleaner has just arrived, a pleasant chap with a long hose attached to a brush trying to scrub the sides of the pool wall, and now trying to scrub the bottom of the pool. He is sweating now as we watch him from the balcony. All this work is due to the fact the pool has been left untouched for months and months. People like us holiday makers hire a villa and domestic pool for the relaxation and thinking about jumping into a pool when the temperature is like it is today whilst I write this blog of around 29 degrees.
Quest gives you the finishing touches of swimming in pure water. It's like filling the pool up with tap water, you feel invigorated, refreshed, happy and just want to float al day in the pool. I wish this pool was a chemical free swimming pool.
So now onto more information on owning a pool. If you have the finances is still a very good investment for either a holiday villa which you wish to rent out; or simply a pool in your back yard. Some owners of pools have more of an active, more enjoyable outdoor lifestyle and most of them enjoy showing off their pools to neighbours and friends. Your home will become the local destination spot for everyone you know. It may also be worth considering developing the pool area into sections like a kiddie's pool area, a fitness area near the pool etc. One of the amazing assets to owing a chlorine free swimming pool is the odourless environment. This makes eating and drinking next to a pool simply amazing with the underwater pool lights and no horrible smell of chlorine etc.
Domestic pools come in all shapes, sizes and configurations. You may want to use a domestic pool for a fitness reason. For example, the extreme sports enthusiast goes for a jet pool by swimming vigorously against the flow of jets of water. Or what about a hydrotherapy pools for those who need help in relieving their aching bones or have health issues. With these types of pool need to be sanitized without chemicals or systems that give of vapours that could cause more of a health issue.