In this era when 1) there are not that many lands left, 2) cost of living is high, 3) most people prefer working in big cities; living efficiently is the way to go. One should start thinking about how to strategize to maximize space be it from space composition, the way it looks, or the amount of possession one has. Let's take a look at the design of this apartment in Hong Kong – what from now on we will call "Twin Peaks Residence" – so maybe we can get inspired by the ways the designer makes it cozy and feel spacious.
Though only 46 square meter in area, this apartment is unique and is full of character. The color composition, placement of the furniture, and simplicity makes the whole apartment looks in sync, harmonious, and spacious. So we thought we can use this Twin Peaks Residence as a pointer for ways we can make a small space feel bigger.
1. Use plain colors
Instead of opting for wallpapers with intricate patterns, plain colors is much easier on the eyes and as a result will make a space look a lot less cluttered. This apartment uses soft and plain paint colors for the interior walls: whites, light pink, and blues. Though colorful, the whole ecosystem does not look overwhelming because they are all in plain motives. This way, one can express their personality without being too intrusive.
2. Bold furniture colors
The furniture in this apartment has bold colors, but they are plain. The metalware like handles, utensils, and trays are brass and gold colored and there are some pieces that are yellow, red, and blues. These colors make the apartment feel casual and playful.
3. Wood floor
Because it is light and warm, wood flooring is so easy to incorporate into any design, so it is perfect to include them in this apartment design. Wood flooring makes a room feel more casual and down-to-earth compared to other materials like marble, that gives off a more formal and proper aesthetic.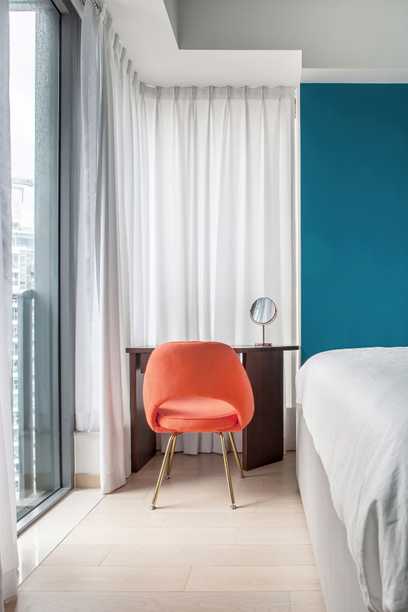 4. Curtain in similar color with other furniture pieces
The same reason why one should opt for bold yet plain furniture color, choosing a curtain that is similar to the rest of the interior will make it less intrusive to the eyes. This Twin Peaks Residence uses a turquoise curtain to match its blue walls.
5. Get rid of unnecessary accessories
Though accessories is a way to express homeowner's personality, having too much of it will clutter the space. So it is best to keep to bare essentials to make the space looks spacious!
Photo credits: nirutbenjabanpot