The Best Home Design For A Musician: House O by Alexis Dornier
Alexis Dornier is German architect now based  in Bali, Indonesia, who has numerous noteworthy projects all around the world. This residence – called House O – which he completed in 2018, is located in Ubud, Bali,  in the middle of a paddy field. The house itself is only 370 square meter, but it has a vast view of the bare greens outside.
The House O is such a signature house for such rural area. The exterior is one of a kind so it must be very hard to forget once you have seen it. Alexis Dornier was inspired by musical sound wave when he created this house. This inspiration is visible on the shape of the roof, the stairs, and the overall shape of the house.
Taking advantage of the views, Alexis Dornier also uses a large window to maximize the outdoor view. So that wherever you are in the house, you can enjoy the paddyfield outside. Ubud itself is very famous for its ricefields and terracing, this house, that is located far away from the city center, is the perfect opportunity to show Ubud's true personality.
House O has a specific room called the "Musician Room" on the second floor, that is open to the general public. There is a stairwell that leads people directly to this room on the second floor, which in fact is the center of the house; and this stairwell is iconic in its shape as well – that it resembles a harp or a musical stair where it starts as one and branches out into two. This stairs also function as a seating area for guests who come to enjoy music in the house.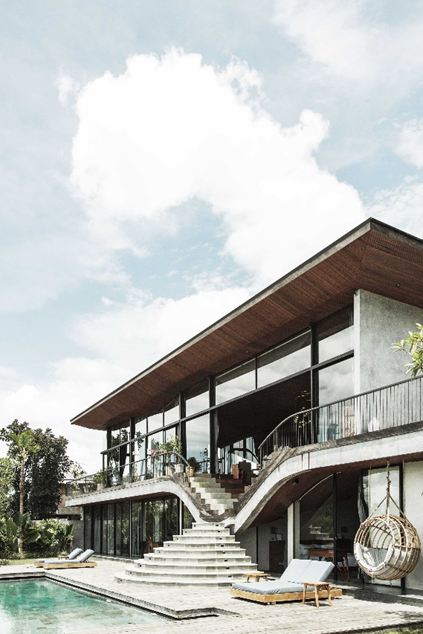 To refer back to the soundwave concept, the interior of House O is also very fluid. The roof is curvy; the materials are dominated by wood and concrete; all this together makes the house feel very casual and cozy to live in. The wood gives the warmth of the space. 'As feeling like being inside of an instrument,' said Dornier.
This 3-bedroom house is  such a great example for the fact that a modern and unique building does not need a highly complex design and material selection. Alexis Dornier uses local materials and techniques that are simple to the core, yet yielding a beautiful result.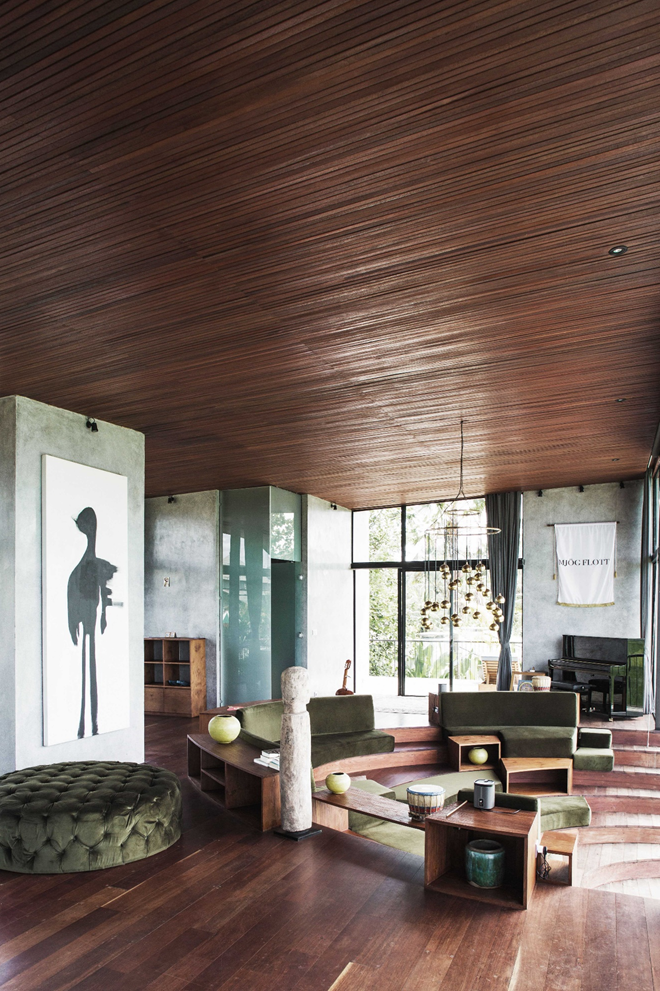 "The philosophy behind Alexis Dornier's architecture is to combine and reformulate design methods for each architectural design task. An task is its own case, its own matter, problem and affair. A set of rules forms a logical, explanatory and comprehensive design narrative that leads to efficiency and a strong expression of our built environments. Dornier's architectural projects endeavour to formulate a design aesthetic that mediates between elements of Tropical Modernism and Industrial Architecture with an underlying ambition for formal and tectonic innovation. This design aesthetic is realised through an iterative design process and careful selection of locally available natural materials, spatially composed to respond to the site and natural setting in which they are placed." – Alexis Dornier.