Trendy and Modern Kitchen Designs
Have you always wanted to achieve a sleek, modern kitchen where everything is elegantly organised and there's always enough space for everything?
Modern designs are usually associated with open-plan spaces and large kitchen areas, but in reality, not everyone can afford a really huge space. So we've gathered some of the trendiest kitchen designs that you can recreate on your next renovations.
Here are some exciting ideas on how to achieve an aesthetically pleasing and modern kitchen area:
Go handle-less
Neat lines and Unnecessary clutter is essential to achieving a contemporary looking kitchen. Handle-less doors, slimline worktops, and under-mounted sinks are the perfect example for this. The absence of handles in your cabinets actually creates a sleek, continuous flow, and is also a great choice for smaller kitchens as it makes the room appear wider than it actually is. It also decreases the risk of catching clothing as you prepare for meals.
The multi-functional feature
Opt for appliances that do more than just one task. For example, you can rid of the need for a microwave by purchasing a combination microwave oven. Just like your typical microwave, this can instantly heat and/or defrost the food, yet it can also grill, roast, cook, and bake as well. Also, a 3-in-1 tap like this one is able to dispense warm, cold, and even boiling water, so there's no need for you to utilize a kettle every time you want a cup of tea.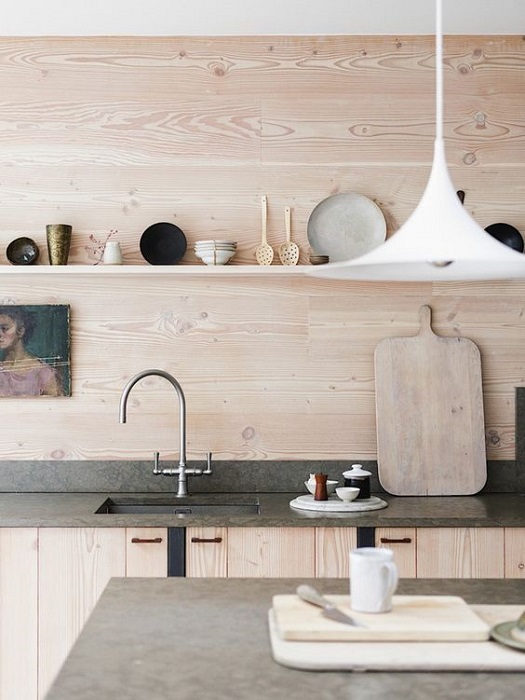 The overhead rack
Ceramics, as well as other regular kitchen utensils can also look stunning when they are being exhibited artistically. These can give so much personality in any kitchen setting, may it be modern or traditional. To do this, simply mount a single shelf to place them on display. Everyday kitchen utensils can really become a huge mess when they're not organized appropriately. Utilize this simple idea to free up a great deal of space in your kitchen worktops.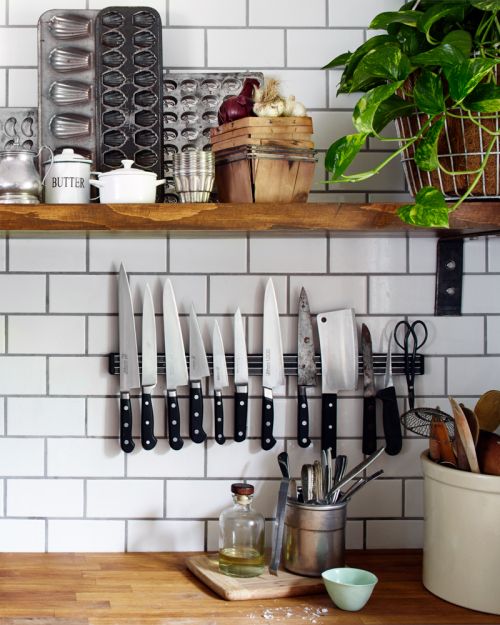 Exhibit the sharps
Knife blocks can be tricky to put in place because of its bulkiness, particularly when you have plenty of sharps, so might probably end up getting a huge one in order to fit all your knives in one safe place. One solution for this dilemma is to try using a sturdy magnetic strip to neatly store your knives on the wall. Plain magnetic strips like this one is a practical material, yet it's also a chic way to keeping the blades off your worktop.
The stylish combo
Balance out the darks of your kitchen and allow it to be more glamorous by placing in lots of warm metals, like the pendant lamps and towering stools of this modern kitchen. Opt for light-toned worktop and kitchen island, while committing to a dark-toned handle-less cabinets to achieve a full on modern kitchen designs.
Let us know which design you liked most!