6 Design Insider Tips and Tricks To Create a Gallery Layout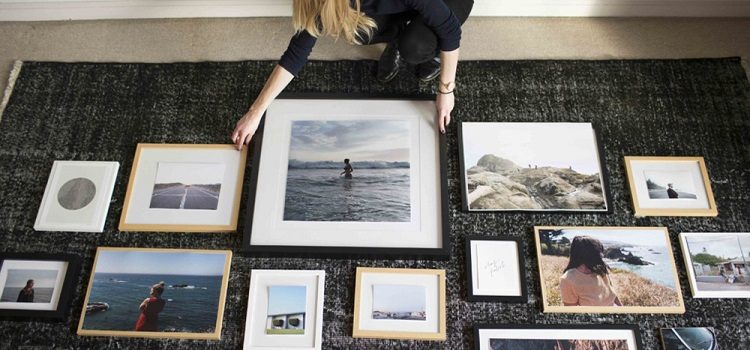 Gallery walls are a fun and creative way to decorate your home. While hanging frames on the wall seems like a simple and easy task, planning out the perfect gallery wall for your space can be quite tricky, especially if you're doing it yourself for the first time. Plus, the process of properly punching holes in the wall with your frames can be quite daunting and frustrating. You'll also need to know which art pieces and prints to select and how to create the right composition for your gallery wall.
1. The Art of Selecting the Right Pieces
First thing's first. You need to have an idea of what kinds of artwork or photography you want to display on your gallery wall. Most likely, you have a piece or two that you love or, perhaps, you have a collection of artwork that you've curated over the years. Now, it's time to start arranging them in a composition that makes sense for your space and reflects your personality. Are you a serious art collector? If so, do you want to create a focal point around a specific piece? Or is your collection more eclectic — in which case, you might want to consider an interesting composition of mixed pieces.
2. Take Careful Measurements
Whether you are planning a gallery wall with a focal piece or you decide to curate an eclectic gallery wall, you will need to take measurements before placing the art pieces on the wall. By measuring, you'll have a realistic layout that will fit into the intended space. This will help avoid the need to make any awkward revisions or ad hoc fixes on your gallery wall. With careful planning and a simple approach to laying out and placing each piece, you will save a lot of time and frustration when you finally install your gallery wall.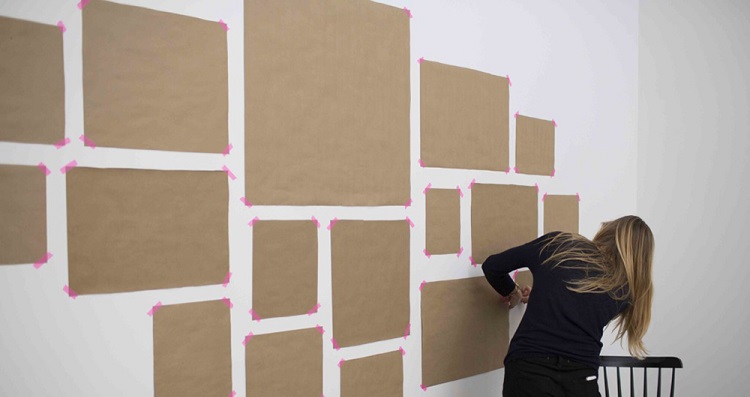 3. Visualize and Mock Up the Gallery Wall
Now that you've selected your pieces, it's time to start envisioning your gallery wall. While you might think you have an idea of what you want your gallery wall to look like, it is never recommended to start placing them on the wall without at least some thought. This is also true for 'eclectic' gallery walls. You need to take into consideration: balance, symmetry / asymmetry, focal point, repetition, rhythm, pattern, proportion, lighting, and color. You can quickly sketch or map out a layout to get a general idea of how you might want to compose or arrange your art pieces. Hack this process by laying all of your pieces on the floor and snapping a bird's eye view photo to see what your gallery wall could look like. Then, hold your snapshot in front of you with the blank wall in the background. You can also trace your frames and art pieces onto craft paper or brown paper bags and tape them onto your wall to lay out a mock up and see how the pieces will look together.
4.Select an Anchor Piece. Or Two
An anchor piece is the starting piece that will be the center or focal point of your entire gallery wall. Typically, the anchor piece visually stands out due to its size or in other ways, such as color, placement, elicited emotion, meaningfulness, or orientation. Usually, you only need to select one anchor piece for a gallery wall. However, depending on your actual layout and style — especially if you are going for a more eclectic gallery wall — you might try different compositions with two or three anchor pieces.
5.The Art of Composition
You might find that mixing media as well as mixing organic and geometric shapes look quite nice on your gallery wall. You might also find that your pieces share a repetitive element or pattern that you can play with to create rhythm and implied texture. Perhaps you want to contrast colors and styles or mix abstract with figurative and natural pieces. Or perhaps you find yourself pairing complementary pieces together. In any case, trust your intuition when it comes to composing your gallery wall. There are no (very) specific rules when it comes to designing your own gallery wall. The work you curate is a reflection of your personal style. If you are not sure about the composition, just take a break from it for a few minutes (or a day) and revisit it later with new inspiration!
6. Time to Frame
Mix and match. Or go for a uniform look with matching frames. White frames are great if you want a clean and crisp gallery wall. For some definition, opt in for simple black frames. If you want something modern but also classic, consider a wood frame. For a posh or glamourous gallery wall, go for frames with a trendy finish like soft gold or metallic, such as rose gold or brushed nickel. For a contemporary home decor, chrome frames can add the perfect high end touch. For a nostalgic gallery wall, consider antique frames that exude Old World charm. Lastly, if you strongly feel that each piece fits with a unique frame, a mixed frame gallery wall can look nice as long as you are intentional about each frame you choose. Aiming for a balanced or relatively proportional selection of frame finishes will help you master a mixed frame gallery wall. For example, don't randomly place a gold tone or antique frame in a wall full of wood and black frames. It's best to have at least two of each frame finish.
About the author: Lucy Parker is the Resident Design Consultant at HomeDecorAZ.com. When she's not busy helping clients with interior design projects, Lucy writes blog posts related to home décor. She's also a foodie who loves traveling and enjoys movies (except horror).