It's quite alright for your home to be playful with color. Color adds character and actually serves a purpose to enlighten and uplift the mood. If you're uncomfortable or scared with the thought of having too much color, this article will ease that fear and help inspire the little creative and subtle enhancements to add color and character to your home exterior. Here are 5 ways to brighten up your home exterior.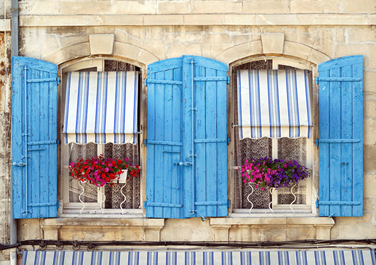 Create an inviting entrance
This is your guest's path way to your home so don't lead them astray. You can guide them with light and landscape. Use subtle light to guide the path from the sidewalk to your door, as well as flowers or plants that outline the path. You can also place potted plants or flowers on the side of the front door to exemplify your welcoming entrance. If the front door gets a lot of sun, feel free to use a lemon potted plant which guests can harvest as the fruitful plant becomes ripe. Creating an inviting entrance will automatically make guests feel welcome. Also, use positive and unique accents near the front door to represent playfulness and character and this can be done with holiday festivity. Everyone enjoys a neighbor that celebrates the joy of the seasons!
Add Shutters
Exterior shutters give the outside of your home an amazing makeover with little cost and effort. It is easy to get playful with shutters as they come in a variety of colors, sizes and material. Even at some point in the future, you can always paint over your exterior shutters as well. Shutters also serve as protection against severe weather and temperature control should you choose to utilize a functional type of exterior shutter.
Unique Metal Hardware
Metals can add color too, so don't forget to let them play along in the spotlight. Experiment with hardware that comes in dark antique copper or aged bronze to contrast well with the other bolder colors on your exterior. This is a cost effective, and is an easy to do improvement that offers a lot of bang for your buck.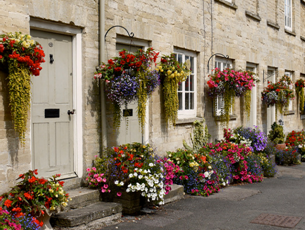 Hang flowers
This is your straight from nature remedy that will add an array of color. Flowers can make anything look good. Hanging flowers create a new way of floral display and brings your home to life. They're fairly easy to maintain as they only need water and you can replace them on a seasonal basis which will enhance your home with richness.
Ode to the mailbox
Spend some quality time with your mailbox. If you're an artist, paint it! If you have grandchildren, let them paint it, or hire a creative neighbor to add some artistic flare to your mailbox. Make sure to use color and make it meaningful. Mailbox art is fun and anything but boring and will add a special characteristic to your home and it will brighten up the mailman's day.