6 Easy Home Renovation Ideas That You Must Know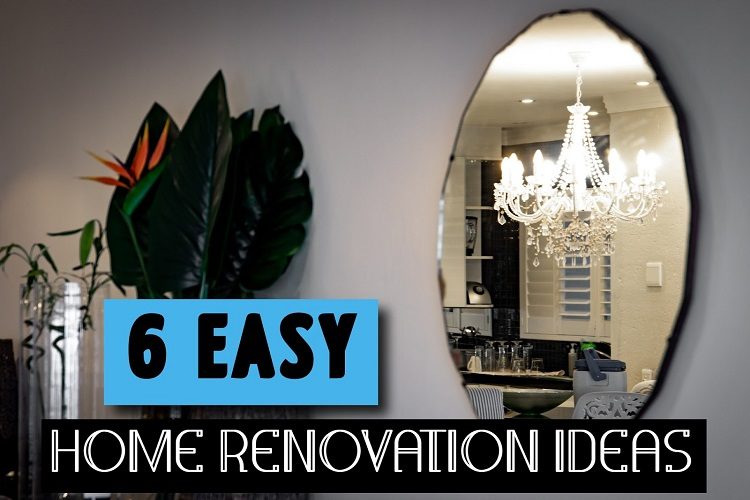 Have you ever gotten tired of looking at the same things over and over? Well, same. Me too. I can't stare at something for too long because then it starts to look incorrect. Like a word. Ever stare at a word so long that you begin to question whether or not you won that spelling bee in third grade, or if you even passed third grade at all?
The same can be said about the landscape you see everyday. The bedroom walls, the kitchen cabinets, the dining room table. Everything you see everyday. The more you look at it, the more you see, the more you notice like the cracks in the paint, the swing in the cabinet, the scratches on the table.
Breathe new life into your home with some home renovations that won't break the bank.


Rip Off the Wallpaper
If you have wallpaper on your walls, rip it off and start fresh! Try a different finish as to what you had before, if you had matte, do a glossy finish instead! Instead of something loud in patterns then do something more toned down or a brand new colour scheme in general. Do the opposite of what you had an you'll feel like it was a brand new room and you're waking up in a completely different place.


Paint Kitchen Cabinets
Depending on what your kitchen cabinets are made of, paint them for a fresh look in your kitchen! Instead of spending money for installation of new cabinets – paint it! Paint it darker for a more sleek chic look in your kitchen, or for a bright, spacious one paint it white. Now, if you really are in need for a brand new look – replace just the doors of your cabinets (make sure the base shelving is still intact) and that would be a great money saver for something brand new.


Install New Covers for Switches
It's really easy to forget about the switches in your home. But you shouldn't. It is the connection between you and the light in your house. Doing such an inexpensive change like switching the old and dated switch plates to something newer, such as something with a dim light or a button instead of a switch, will really breathe new air into your home.


Make a Feature Wall
If all your walls are plain or just one colour all throughout the house, add something that makes it different. A wall with a larger photo of some sort or a piece of artwork. If you're more into the minimalist look – then add a geometric pattern onto the wall itself – use tape and some paint and next thing you know you have an artistic wall that stands out above everything else.


Throw Everything Out
Even though this isn't necessarily a renovation – it can make your living space so much more different if you do it right. Get rid of everything that you don't need. Rent a dumpster and use your dumpster rental to its fullest potential. Keep it for the full rental period and toss everything that you don't need in the house. More room gives you more breathing space and thinking space and just living space in general. Who wouldn't want that?


Revamp Your Mirrors
Add a trim to that wonderful mirror in your bathroom. Some basic shelving and a frame will really change the look and feel of your bathroom. See yourself in a different light, be picture perfect with a ready frame and store your beauty things with your brand new shelf to make it easy to see and easy to reach. Some ideas to help you feel like you're in a brand new place without spending too much money is always a great summer project for yourself. Start off the hot summer season breathing some fresh air, waking up in a new room and seeing yourself in a different light.