5 Ways in which Cafe Table Enhances the Customer Experience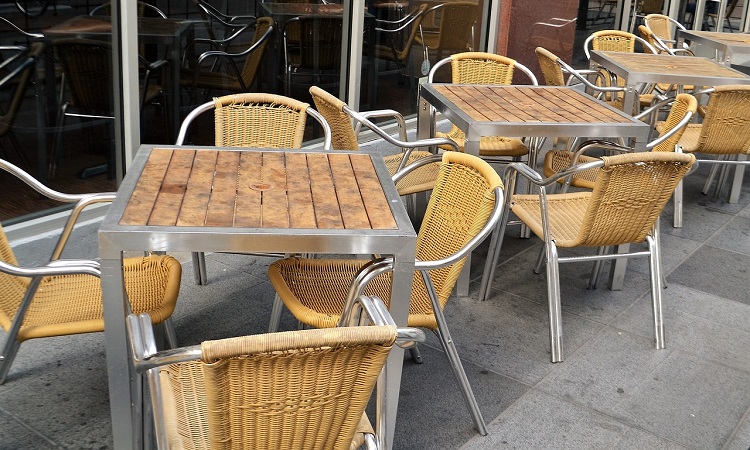 The dining & café industry is a tricky one. The profit margins are razor thin, competition is cut-throat, innovating with newer dishes & delicacies is difficult in a market where every player has carved out a unique niche for their own business.
But this has not stopped newer entrants in the market. From big names like the Starbucks-Tata JV announcing their successful & profitable alliance to smaller, boutique cafes also performing quite well in a similar space. To create a stellar customer experience, you can specifically emphasise some major areas like interiors, design, décor, theme, and seating arrangements.
It is the mix of all these factors that can help you to create a lasting impression on the minds of the visitor. You can also consider some of the stellar tips given below in which the cafe table can improve the customer experience.
5 Stellar Tips in Which Cafe Table can Improve the Customer Experience
1. Opt for an Adjustable Table
A proper seating accommodation in a cafeteria can help you to enhance the customer experience. When buying furniture for your cafeteria, consider the mobility and the adjustability of the cafe table.
Adjustable tables, also referred to as crankable tables can be adjusted for height & base width. You even have the option of adding a table top separately to the table so if you have one of the cafes that adopts a different theme during the day and a different one during the night, this is a great option to go for.
Besides, opting for the adjustable table will help you in moving it from one place to another. These will also help you to host a large gathering. Some of the adjustable cafe table styles that are currently in trend include black distress metal adjustable table, industrial inspire adjustable centre table, mango wood square adjustable table, etc. Moreover, opting for an adjustable cafe table will make it easy for convenient storage and maneuverability.
2. Round Table is Always Convenient
When you have to focus on both the aspect of space and quality customer service, opting for the round table is always the best option. Arranging for a round table will help you to ensure that there is sufficient floor space for the waiter to serve efficiently. In addition to that, cafe tables are basically designed for coffees and snacks; therefore, it can easily accommodate three to four-person. Moreover, a standard round tabletop is spacious enough for the dining of the two persons. Some of the round cafe tables that are currently in trend include a colonial design centre table, robust double-casting base, bent metal round table, Quadpod design table.
3. Make Sure Your Procurement Game is Spot On
While it is extremely important to ensure that things remain top-notch. It is not a particularly difficult task to get it done if one has the resources. So the trick is to get the interiors, décor, furnishings & lighting spot on without spending a huge amount of money.

One trick for doing this right is by eliminating middlemen and getting contract grade furniture from a producer. In India, there are multiple suppliers that do contract furniture at far less than any wholesale price. We have already elaborated on the value of bespoke furniture in one of the previous posts.

Since they also have experience working with cafes & coffee shops, it is just a question of quality inspection & trusting the right manufacturer.

Within India, Particularly, within Jodhpur, there are several such suppliers that can supply these pieces at less than wholesale prices.FurnitureRoots is one such company that focuses solely on cafes, restaurants & hotels. [Browse Through Their Collection Here]

Table options for your cafe include outdoor/patio seating, upholstered seating, metal chairs, simple metal, outdoor, sturdy garden tables& rooftop standing table arrangements.

These can be made out of metal, solid wood, engineered wood, steel & more.
4. Comfort Should Be The First Priority
One of the vital aspects that you should consider while arranging the cafe table is to maintain proper alignment. You can also add an anchor by placing the table beside a window or arranging a design portrayed as this aspect create a good ambiance. In addition to this, you should also consider the fact the table should not be too high or too low as this can affect the comfortability of the visitors. You can opt for an adjustable table to mitigate this problem as it will help you to sort out the problem of heights.
5. Matching Decor
Opting for a convenient cafe table is always a good idea for your cafeteria, but matching decor can add a distinctive touch. To enhance the customer experience, you can add a matching decor that complements the cafe table with a particular theme.

Probably all the more reason to go for a manufacturer as a procurement option. Since they know exactly how to make the furniture blend with the overall styling of the business establishment.

These can help you in creating a lasting impression as the accommodation, and proper setup of the table plays a crucial role. You will find a lot of manufacturers who offers a complete range of table and chairs that will help you to match with your theme of the cafeteria. To provide an improved customer experience, you can check out some of the cafe tables like dazzling wood live-edge folding restaurant table, mesh cafe table, wheel-design wood center cafe table, hand-carved cafe table, etc.
To Conclude
Creating a better customer experience in a cafeteria depends on a lot of factors, but one thing that can distinct you from others is your dining accommodation. In this regard, it is always important that you choose the right cafe table as it plays a pivotal role in proving great customer experience.