5 Tips on How to Make Your Home Look More Spacious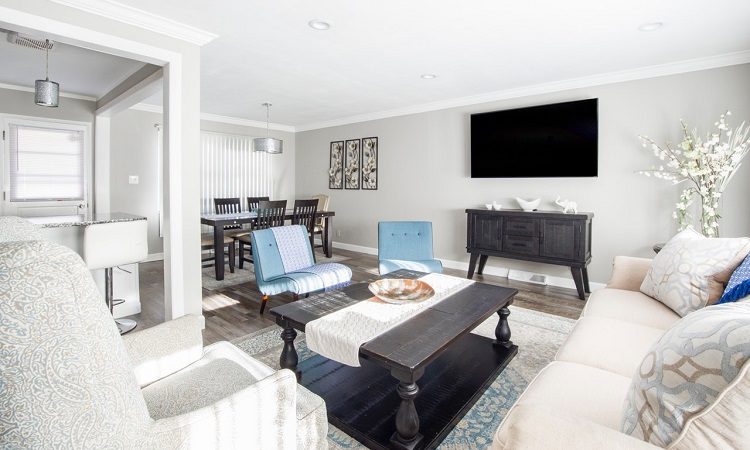 Smaller homes are great for their charm and cozy feel but can sometimes be difficult to decorate. If done well, smaller spaces can be comfortable zen-like spaces but if done wrong, it can feel claustrophobic and cramped. Many people tend to decorate their homes with all of their favorite possessions and those items may not fit properly in some spaces.
The good news is, there are ways to make rooms appear larger. Tricking the eye to believe it is seeing high ceilings and spacious floors can be done.  A tiny room doesn't have to be crowded and you can still incorporate some of your favorite pieces. Here are 5 tips on how to make your house look more spacious.
#1 Scale Down Your Furniture
Smaller rooms will need smaller pieces of furniture. Keep the proportions of the furniture smaller to allow a sense of airflow between pieces. If you are putting sofas or cabinets against every wall of the room, it will take up too much floor and wall space making the room feel cramped. The use of smaller items and not putting them on the walls will give the room a more open airy feel and make it seem larger. Opt for larger pieces of art to hang on the wall if you are looking for a bold statement piece for the room.
#2 Use Lower Profile Pieces of Furniture
Using furniture that is lower to the ground will give off an effect of taller ceilings and a more open room. You can use loft-style or platform beds for bedrooms and sometimes even placing mattresses on the floor to give an open feel. For living rooms, you can use low profile sofas or chairs and mid-century pieces to create the look or find items that fit your taste just make sure they aren't too tall. Many modern pieces can achieve this look as well.
#3 Use Furniture With Legs
The use of furniture with thinner legs like tables and chairs create an airy movement in the room. Not only does the eye move above the furniture but also under, around, and through it giving a more open feel. Having a little space under pieces of furniture avoids a clunky feel and can make the floor space seem larger as well. Again, mid-century modern items are usually low profile and have thinner legs so they are a great option for smaller spaces.
#4 Use White As Your Primary Color
We all know that white can make things appear larger and the same goes for small rooms. The color white also has reflective qualities which also aids in making things seem bigger. Painting the walls and the ceiling white will create an open airy feel to your room and enhance the size of the room. Having everything white also tricks the eye in not seeing boundaries and people tend to look up making the room seem larger. If you are wanting to add some color, pair the room with warmer tones with the use of natural wood pieces or textured items to keep a soft look.
#5 Keep Rooms Simple
Overall, keeping rooms simple will create a larger feel. The more items you have in a room the more cluttered it will feel. The use of many heavy patterns, collectibles, and art will overwhelm a room making it cramped and closed off. If you want to display some of your favorite knick-knacks, keep them together in one area to avoid crowding. The same goes for art, display a few pieces on one or two walls to keep things simplified. Don't overuse colors or patterns and stick to all one color theme or just one accent wall if you want a statement.
The tips mentioned above, are great ideas to make rooms appear larger. Finding things you love but making sure to not overcrowd the space can be achieved by keeping things simple and clean. Have fun with decorating so you can create a space that is functional for your needs and a room that you love.
Here are some quick tips for the appearance of larger rooms:
Use natural light.
Place the mirrors in the room.
Don't use heavy curtains or large rugs.
Use neutral colors.
Remove items from the floor.
Use shelving or built-ins.