Gypsy in Your Soul: 5 Steps to a Bohemian Bedroom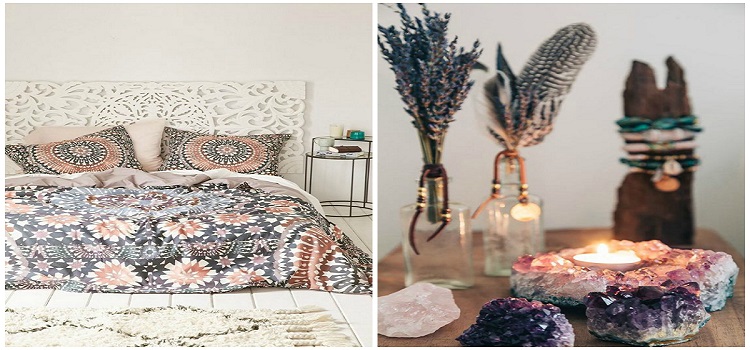 If you are treating your bedroom as just a snug place to get a nightly shuteye, no wonder it is starting to feel a bit dull. Boudoirs are more than just sleeping areas, mind you: they are a spot where dreams, romance, and reality collide, so you should treat them accordingly. But how can you introduce a personal boho touch to the bedroom, and which accessories can you use to this effect? Let us find out!
1. Bohemia is a state of mind
First off, ditch conventional standards and embrace the eclectic state of mind. The boho look is a hotpot of details borrowed from various styles, and there are no strict rules as to which items you are allowed to use, for as long as the décor fits your bill. Flamboyance is an asset, and so is imagination: bright colors can paired with neutrals, muted hues, and dark notes; beach feel and Oriental details go nicely with each other; different fabrics can be mixed for added texture and charm. With boho, the ceiling is not the limit, rather a perfect place for personal expression!
2. Arts and crafts are boho hip
Artifacts belonging to different eras and styles can be mixed and mismatched without a problem in boho. From gramophones and old-fashioned cameras, Indian dream catchers and mementoes from holiday trips, to minimalist paintings and statement furnishings, no item can look out of place in a bohemian bedroom. The only rule for creating a gypsy-inspired boudoir is absence of empty space: ribbons, drapes, black-and-white photographs, wall art, jewelry boxes, antiques, and potpourri can all be used to create the playful fun-fairish mood which is usually associated with this style.
3. Glitzy yet intimate feel
Although boho bedrooms are an embodiment of hedonism and creativity, intimacy is still an asset, which is why you should outfit the window area with quality custom blinds and shades to keep your private life to yourself. If you are into natural materials, you can opt for rattan and bamboo shades, but if you prefer an airy look, use linen, cotton, or silk drapes in either neutral or bright hues to spruce up the ambiance and fine-tune the mood in the sleeping area.
4. Ethnic prints, animal hides, and surprising textures
The best way to achieve a gypsy-inspired atmosphere in the boudoir is to incorporate different textures and colors into the room. You can use Moroccan wall tapestries, animal hides, upcycled and repurposed items, floral designs, Aztec prints, Indian carpets, and coarse sofa covers, for as long as you do not match them. A stack of multicolored cushions can be scattered around the king-size bed to achieve a welcoming, snug feel, and you can also conceal your sleeping spot with a canopy or heavy drapes to add a touch of mystery and romance.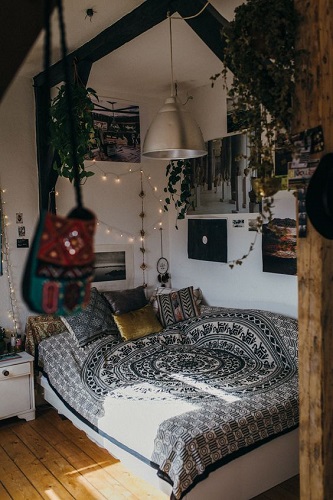 5. There is no such thing as too much detail
Indian-looking tapestries, DIY macramé, potted plants, paper baskets, wall art, vintage pictures, motivational posters, beeswax candles, ivory figurines, a stack of magazines, seashells, a few gemstone bracelets, and an odd peacock feather will render a boho feel to your boudoir in a flash. Beads, pine cones, and various bits and scraps are a welcome organic addition to a boho bedroom, for as long as they do not follow a plain or monochromatic color scheme. In boho style, abundance is essential, and there is no such thing as too much visual detail.
Transforming your plain bedroom into a gypsy tent will inspire a romantic mood, daydreams, and positivity far more efficiently than any traditional style out there. And just like in the world of dreams, your take on gypsy-like décor can be anything you want it to be, no questions asked, so go ahead and add a playful touch to your home immediately: after all, you only live once, but you can enjoy your boho dreams whenever you feel like it.