Best Arrangement Ideas Of Indoor Decorative Plant Pots
There are hardly any prizes for guessing what a wonderful role the indoor decorative plant pots play in giving your space that chic facelift. However, the drill of how exactly one should place these planters often comes with a number of questions, confusions and need for creativity. Let us give you some insights and ideas about how to position and display the swanky indoor planters in the most suitable and reasonably easy ways.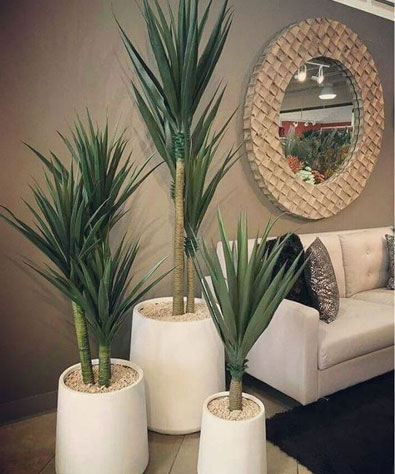 Team them up with vibrant objects
Are you someone who loves to have the statement making nooks and corners? Well, the indoor decorative plant pots can do the trick just right when paired with the just as stunning furniture or artifacts. If you have a strikingly colorful and catchy painting hung on your wall, for example, a lush looking tropical plant will look like a million bucks when placed near the art piece. If you have a bright and happily colorful solid wall making an appearance in your living space, a complementing plant pot positioned against it with the color as its quirky backdrop would look quite niche. Alternatively, pair that designer chair, sofa, console table etc with a healthy and charming looking plant. Surround yourself with this mood boosting and charming scene right within your dwelling.
Make them enhance the high ceilings
If yours is an indoor space that has a high ceiling in one or multiple places, taming the height can be done easily and aesthetically by assigning that job to the tall pants. A high ceiling also comes with the advantage of that abundance of space. You can put it all to a good use by strategically placing the decorative planters that are growing healthy and heighted plant species. This will bring about a sense of style, aesthetics and visual drama to the otherwise blank looking headspace of a room.
Weave the maximalist grandeur
For the lovers of maximalist look for their indoors, the designer plant pots can add to the charisma of their space and generate a nature inspired texture. This is especially where the bold and catchy plants grown in the equally appealing planters come into the play. Get the magnificent looking cacti species, kentia palm, monstera deliciosa, mother-n-law's tongue or any other large sized plant and arrange them with the quirky patterned upholstery, funky furniture or a bohemian wall.
Create the sublime magnificence of minimalism
For the fans of a classy, neat and minimalist look, the small indoor plant pots arranged creatively bring about that subtle magic. Go a little experimental when it comes to the sizes, structure and species of the plants for this objective. Feature them on your table tops in the company of your much loved photo frames, jars or any other showpieces. You can also arrange them aesthetically on a shelf that is already flaunting your favorite books or vintage music records. These fine appearances of the lush will accentuate the positive vibes of your place.
Sculpt out a millennial feel
If you are fond of creating that young, fun and enchantingly informal look for your indoor space, the millennial kind of planter arrangement is pretty much it. Get those patterned, painted and 'pop-art'ish plant pots that speak of youthful appearance and fearless funk. Make them look even livelier by placing them at an attention grabbing focal point on a wire rack, messy but mesmerizing work desk or in your party pad cum balcony to give out that young-at-heart and free spirited feel. Going somewhat confidently random in the placement of these swagger planters will be the key. Follow your heart, we say!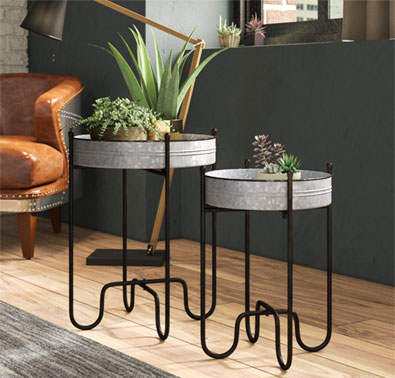 The grunge glamour
Grunge has its own charm and we don't see it going out of fashion anytime soon. In fact, giving a stylish yet somewhat industrial look to an indoor space with such plant arrangements has been one of those evergreen ways of stylizing an indoor space. Get that old time wooden ladder into the scene and revamp it a little with the color and polish of your choice. Or, install that masculine looking metal table and prep it up in its punk avatar. Or, the cement chunks serving as the platform at the key spots in your surrounding too can be the potential planter display space. So, there you go! Here you have a number of ravishingly raw décor options at your disposal to pep up with your indoor planters.
Clever and contemporary display ideas to combat the space crunch
If the trademark modern day peculiarity of a space crunch is your issue, the street-smart ways of indoor plant pots arrangement can be your savior. You may use the ceilings at their fullest by suspending plant hangers from there. This will save the consumption of the already limited floor space. If you still have to use the space, go for a creatively bunched or grouped set to decorative planters placed together with stylish touch of small sized artifact, book stand or other things similar.