3 Important Things to Consider If You Want to Use Solar Power to Increase Your Home Value in Dubai
Dubai is one lofty region for a property investment — it's a major tourist destination, a hub of economic growth, and a mesh of cultural diversity given how many expats now call it home, even temporarily. So it's perfectly understandable that if you want to invest in increasing the value of your home there, you'd want to keep an eye on important factors to consider.
Solar power is gaining ground in the region. In fact, Dubai recently eased approval requirements for contractors in a bid to boost rooftop solar power use. Renewable and clean energy is gaining a foothold both in terms of economic and political fervor, so it's a good bet that jumping on that bandwagon is going to pay dividends in the long run.
But if you're really considering using solar power to increase your home value, keep these things in mind:
Installation and Maintenance Can Be Tricky
Simply put, the cost of energy in the UAE is still low, especially for residential areas. Switching to solar power won't net you any energy bill savings that will return your investment in terms of the high initial capital investment of having the entire system installed.
You can expect your solar power installation to start paying back within 9 to 11 years from now, if the current pace of adoption and government regulation holds. Of course, the good news is that the pace is set to increase, so that waiting time should be significantly shorter than expected. Also, your goal is increasing the value of your home as a whole anyway, and not really quick savings on energy bill.
Also, when it comes to installation, you'll find that since Dubai roof spaces are mostly flat unlike the slanting roofs of other countries, your solar power installation will be vying for space against HVAC equipment installed on your roof.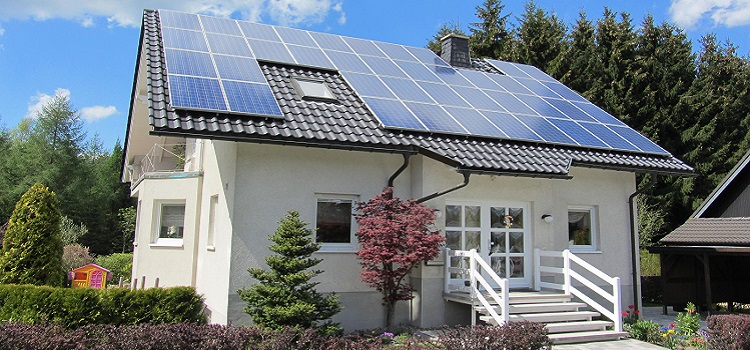 To put this in better context: An average Dubai villa with energy bills amounting to around 2,000 to 3,000 AED monthly would only have roof space for a 3 KW solar power system. This type of system could take up 25% of your total energy consumption for your home, when you would typically want solar and renewables to take up a neat 50% to 60% of your overall energy consumption.
Finally, maintenance of solar systems can be tricky in the Dubai region. Solar panels need to be cleaned around twice a month on average. During the months of July to September, sometimes panels need to be cleaned weekly to maintain productivity. Panels that are not maintained can drop their output by as much as 35% across 10 days in some instances.
So what does all of this mean?
You need to consider the system you can install given the roof access you have, as well as the additional costs of upkeep.
Home Ownership Is a Significant Factor in the Investment
Since the UAE is a country unique in its majority expat population, home ownership is a significant factor when investing in solar power. In a typical villa community, most residents don't own their property — they rent or lease.
Dubai's ownership occupancy rate is around 17% to 20%, but in countries where residential solar power penetration is high, around 60% of people own their homes.
Since return on investment for solar systems is a long-term game, the benefits to a renter is reduced, especially considering that the main draw of installing such a system for a renter is to reduce energy costs, which are already low in the area to begin with.
Owners usually won't invest in solar just for the savings, but for the overall home value increase it could potentially deliver in the long run.
You'll Be an Early Adopter!
Don't fret, though; there is definitely an advantage to solar, even if it isn't immediate. For one thing, you'll technically be an early adopter of solar energy since awareness about the topic remains low in the region.
Homeowners across Dubai would discuss solar power in terms of policy and overall advantages, and not exactly ownership and investing in it to increase home value. They're also not aware that they can legally own a solar plant on their roof, for instance.
And this low awareness of options and possibilities leads to low interest in solar power in the first place.
But like mentioned earlier, solar is gaining ground, and if you intend to invest in solar energy now for the sole purpose of increasing your home value, then when the time comes that solar is widespread, you'll have a very attractive property and higher value than the rest because you invested early.
Now, this isn't the definitive list of considerations for solar energy — you also need to consider compatibility between solar and HVAC and other things like that. Luckily it's quite easy to just look up an O General AC price list, call up a contractor, and ask about it.
These three considerations, on the other hand, are a bit more abstract. In the end, it all boils down to this: Solar in Dubai is a long-term investment with no quick wins for now, but this is certainly changing into more favorable terms for early adopters.
AUTHOR BIO: Ghufran Khan
As owner and managing partner of Dream Cool Air Condition Systems LLC, the leading provider of high-quality AC services in the UAE, my passion is to help clients secure their AC investments through topnotch cooling maintenance and services.
After obtaining an Air Conditioning Associate Engineer degree in Pakistan in 1992, I moved to the United Arab Emirates in 1993 and started working for the Juma Al Majid Group of Companies.
In 2003, I started my own business and built my team of highly trained staff and certified AC professionals. Today, Dream Cool Air Condition Systems continues to offer reliable cooling solutions that lead to increased comfort, time and money savings to residential and commercial clients in the UAE.